Haiti water shortage: 'We pray for rain every day'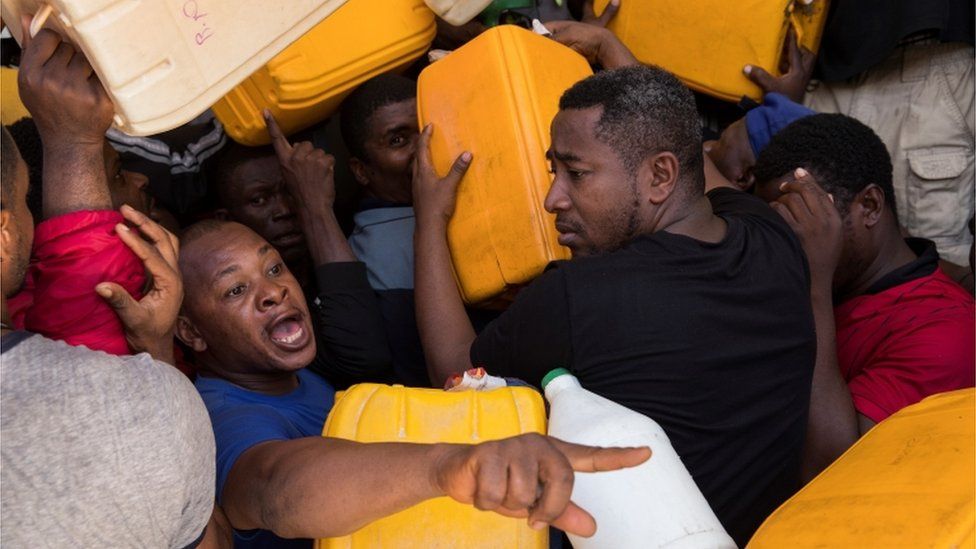 A fuel shortage brought about by gangs blocking the access roads to distribution terminals is throwing Haiti into further chaos.
Residents of the capital Port-au-Prince say they cannot get hold of drinking water as water pumps have stopped running due to the lack of petrol.
Deliveries of bottled water have also been disrupted meaning that many residents have to rely on rain water.
"We pray every day that it rains," one woman told Reuters news agency.
National Police Chief Frantz Elbé said on Tuesday that measures taken so far to allow for the safe distribution of fuel had failed to work.
Mr Elbé said that the police had set up a security corridor from the Varreux terminal in Port-au-Prince and that goods such as rice, cooking oil and cement were getting through to consumers.
But tanker lorries carrying fuel were not being allowed to pass by gang members blocking the entrances to the port.
Haitian gangs have long extorted delivery drivers, but the situation has escalated since the assassination by mercenaries of President Jovenel Moïse in July.
In the power vacuum following the president's killing, gang leaders have become more brazen and stepped up their criminal activities, which include kidnappings for ransom and extortion.
Jimmy Chérizier, better known under his alias, Barbecue, is one of them.
The former police officer, who leads an alliance of nine of the most powerful gangs in Port-au-Prince, demonstrated his power last month when his followers opened fire at a monument just as Prime Minister Ariel Henry was about to lay a wreath.
The prime minister and his security detail fled, and surrounded by heavily armed masked men, Barbecue made a show of laying a wreath himself.
In a news conference last month, he said that his criminal alliance, G9 and Family, was behind blockades around the fuel terminal.
He said he would not allow fuel to be delivered until Prime Minister Ariel Henry stepped down.
But they have had also had a domino effect on many other key goods which rely on lorry drivers for delivery or on fuel for production.
Guito Edouard, who leads Haiti's Drinking Water Directorate, says some gang members have grasped people's need for water, but others have not: "We have large infrastructures hijacked by armed groups. We use various social strategies to explain to them that water is a public need. Some understand but others do not accept the message."