Colombian policeman in the dock over protest death
By Manuel Rueda
Bogotá, Colombia
Five months after at least 58 people died during a wave of anti-government protests in Colombia, a policeman will become the first law enforcement officer to face trial over one of the deaths.
Prosecutors announced last week that they would seek a murder conviction against Major Jorge Mario Molano.
Maj Molano of the Ibagué police force is accused of shooting dead 19-year-old Santiago Murillo as the student was walking home alone and unarmed in the city in central Colombia. He denies the charges.
The incident occurred minutes after protesters had thrown rocks at police, who responded by firing warning shots in the air and also throwing rocks.
The case is being closely monitored by human rights groups in Colombia and abroad, which are demanding that major reforms be made to the country's police force after the anti-government protests in April and May were marked by violent clashes and police abuse.
The original protests over proposed tax reforms quickly grew to cover other issues, including police violence and poverty.
"The government has long denied that police are using excessive force," says Miguel Ángel del Río, founder of Legal Front Line, a lawyers' collective representing protesters.
"But here we have a case that contradicts that narrative. It shows how the police clearly attacked an unarmed civilian, and [how they] are abusing their power."
The Legal Front Line says it has defended hundreds of protesters who were subjected to arbitrary detentions and beatings while they were under police custody in May.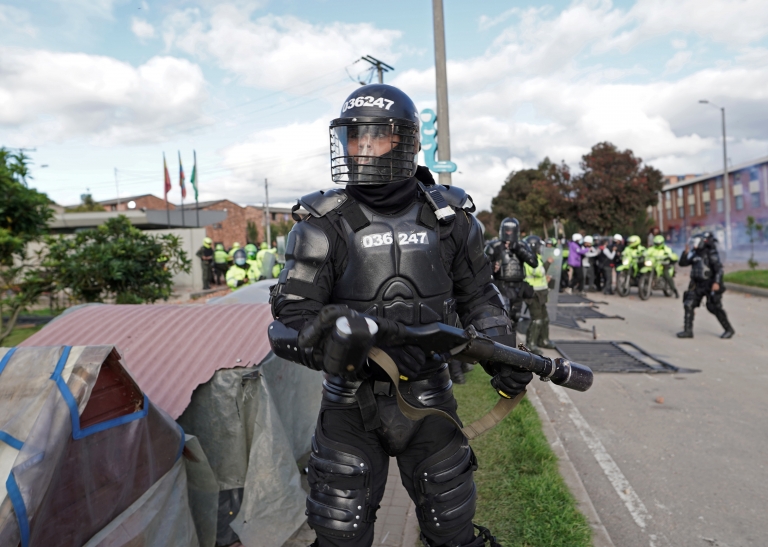 Reuters
The Colombian Attorney General's office said that at least 26 people were killed during the wave of demonstrations.
It did not respond to requests for information on the number of police officers who are currently under investigation for allegedly killing protesters, but back in May it put the number at three, including Maj Molano.
The prosecutors in the case say Maj Molano shot Santiago Murillo from a distance of about 32m (100ft) as the student was crossing a street on 1 May.
Police and protesters had been clashing on the same street corner minutes before Mr Murillo was fatally wounded.
A video taken by a witness from an apartment window shows the teenager collapsing after being shot.
Other videos show a police officer hiding his gun after firing, and refusing to heed calls from bystanders to call for medical help, but the officer's face cannot be seen.
Maj Molano has denied killing the student. His lawyer says the officer left the area on a motorcycle two minutes before Mr Murillo was shot and therefore he is not the man seen firing a gun in the videos.
The prosecution alleges that a bullet found in Mr Murillo's body came from Maj Molano's gun, but the police officer's defence team say they will prove in court that ballistic reports are not precise enough to link the bullet to the officer's weapon.
Evidence collected so far suggests that Mr Murillo was killed by a police officer, though it is yet to be determined if it was Maj Molano or one of his subordinates.
The killing of Mr Murillo shows there is a strong need to make the police more accountable and change how officers are trained, argues Diego Cancino, a member of the city council in the capital, Bogotá.
Some 70,000 people recently backed a proposal by Mr Cancino to reform Colombia's police.
The proposal, which Mr Cancino has presented to Congress, suggests creating a panel of civil society groups that can veto the promotions of officers involved in abuses as well as having human rights organisations participate in the creation of police training manuals.
"We need a police force that is closer to the citizens," Mr Cancino says. "We want them to generate confidence instead of fear."
In June, Colombia's government began to implement its own police reforms which include creating a human rights directorate within the police - led by a retired officer - that will process complaints from citizens.
The government will also require officers to take new human rights courses, and will place body cams on their uniforms.
But critics say the changes do not go far enough. Some human rights groups say part of the problem is the fact that Colombia's police currently fall under the jurisdiction of military tribunals run by the Ministry of Defence. There, officers who commit abuses are often judged by their peers.
José Miguel Vivanco, the Americas Director of rights group Human Rights Watch, says that needs to change.
"[President Iván] Duque's response has unfortunately been too little, too late.
"His reform fails to transfer the police out of the Ministry of Defence, does little to bolster the police's poor disciplinary system and does not limit the military justice system's ability to handle criminal investigations into abuses," Mr Vivanco says.
The case against Maj Molano was at first assigned to a military judge, who ordered the officer's release from pre-trial detention.
But prosecutors appealed against the decision and a civilian judge ordered Maj Molano's arrest a couple of weeks later.
It was not until August that the case was transferred to the regular justice system after Colombia's Constitutional Court ruled that it should not be heard by a military court.
Santiago Murillo's mother, Sandra Meneses, says she would like "an exemplary punishment" to be handed out, so that police officers are dissuaded from exerting violence on civilians.
Ms Meneses, who is suffering from depression and anxiety, has not been able to return to work since her son's murder
"This has destroyed our family," she says. "I can't sleep well at night because I dream that Santiago is here. And when I wake up I realise he's still gone."