Lula: Brazil ex-president's corruption convictions annulled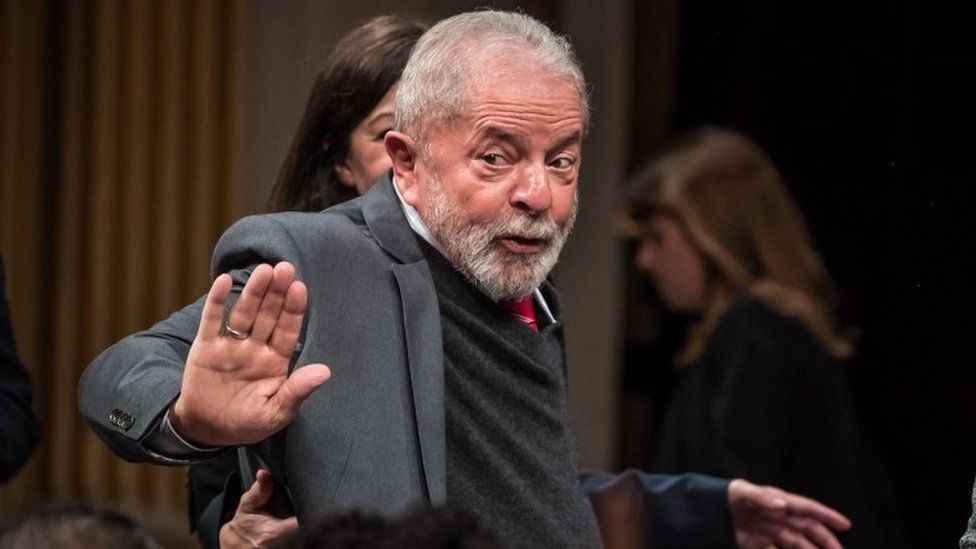 A Supreme Court judge in Brazil has annulled ex-President Luiz Inácio Lula da Silva's corruption convictions, opening a path to a possible run for the presidency in 2022.
He was convicted following an investigation into a huge bribery scandal, dubbed Operation Car Wash,.
But Supreme Court Justice Edson Fachin said the court that had convicted Lula had lacked the necessary jurisdiction.
The prosecutor-general's office said it would appeal against the annulment.
Lula, who governed Brazil between 2003 and 2010, is a towering figure in left-wing politics in Brazil and beyond.
He is also the most senior politician to have been convicted as part of Operation Car Wash, the corruption scandal which brought down dozens of politician and business leaders across the country but which by some - including Lula - has been denounced as a political witch hunt.
The ban came just over a month before the first round of the election and the man who replaced Lula as the candidate for the Workers' Party, Fernando Haddad, did not have the same recognition or popularity and was defeated by the far-right candidate, Jair Bolsonaro.
Justice Fachin's decision could clear the way for Lula to run for the presidency in 2022, where his main rival would likely be Mr Bolsonaro, who is widely expected to run for a second term in office.
An opinion poll conducted by Ipec on Sunday suggested Lula would gain more votes than Mr Bolsonaro - the only politician to do so.
A lot could happen between now and 2022 - no more so than in Brazil where courts famously go back and forth on the finer detail - but if Lula does run in 2022, it's set to be an explosive campaign - one that many experts feel has kicked off today.
Jair Bolsonaro is expected to run for re-election and if Lula faces him, it would divide the country much like the 2018 elections. Although Lula couldn't run in the end, Bolsonaro was propelled to power by many Brazilians' hatred of him and his Workers' Party.
Politics was - and still is - polarised. While Lula remains very popular, he's seen by his detractors as a symbol of corruption at the very top. The difference this time of course is Covid-19 - in recent months, Jair Bolsonaro has been heavily criticised for his handling of the pandemic and the economy is struggling - that might alter his chances of victory.
No matter what, the two men are set to dominate politics in the months to come.
Why was Lula's conviction annulled?
Justice Fachin was responding to a request by Lula's lawyer who questioned whether the court that convicted Lula had jurisdiction to try him.
Mr Fachin agreed with Lula's lawyers that the court located in the city of Curitiba, in Paraná state, should not have tried Lula because the crimes he was accused of did not take place in that state.
At the time of the alleged crimes, Lula was president and resided in the capital, Brasilia. Justice Fachin said the cases against him should therefore be handled by a court in that city.
He annulled four corruption cases against Lula and ordered they be retried in Brasilia.
What does this mean for Lula?
The 75-year-old is free to run for political office - for now at least.
Despite Lula's lawyers saying the decision was a vindication "of his innocence", Mr Fachin did not make any kind of ruling on whether the former president was guilty or not of the corruption charges.
It just means that the cases against Lula are going back to square one. So he could be convicted again.
Can the decision be overturned?
Yes, two things can happen.
The appeal the prosecutor-general office plans to lodge could be upheld by the Supreme Court, leading to a reversal of Justice Fachin's decision.
If Lula is convicted and that conviction is upheld on appeal before the presidential election in October 2022, Lula would again be barred from running for office.
However, legal experts told BBC News Brasil that they deemed a reversal of Justice Fachin's decision unlikely as his arguments for declaring that the Paraná court had no jurisdiction were in line with previous Supreme Court decisions.
Given the short time span between now and the election and the slow workings of Brazilian courts, it also seems unlikely that Lula would be convicted and that conviction confirmed on appeal before October 2022.