'True love': Brothers' kiss on lips sparks debate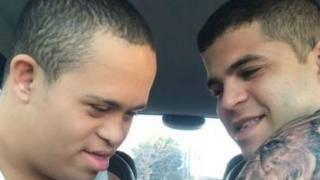 A video of a brother's touching tribute to his sibling who has Down's syndrome has led some people to question whether it is appropriate to kiss a family member on the lips.
Rafael Mirim was filmed in his car in Rio de Janeiro, Brazil, showing his brother Erick a tattoo of his face for the first time.
Touched by the tribute, Erick kisses Rafael on the lips and then hugs him in a video viewed more than 42 million times on Facebook.
The footage, originally posted by Erick and Rafael's mother Sheila Soares on 21 July, was picked up by Facebook user Wallacy Martins. Since he posted the video on Sunday, it has been shared more than half a million times, with more than 60,000 interactions.
The majority of the 11,000 comments describe the heart-warming nature of the video.
"I thought this was absolutely beautiful in every way," posted one Facebook user. Others shared their own tattoos of loved ones.
For some, however, there was one jarring aspect of what should simply be a sweet moment between the two brothers.
"People who I know and have siblings don't kiss them in the mouth especially if they couldn't consent legally," commented one Facebook user.
Another posted: "The way he was rubbing his arm... was creepy... it's a no for me."
"That's just weird. My friend's brother just shakes his hand, that's enough," commented another.
But the comments have sparked a backlash, as many people shared how strongly they felt about the subject.
"I literally just read into five comments before I saw someone posting about how perverted it is that his brother kissed him on the lips," read a reply. "You people disgust me."
Another comment, which has attracted more than 23,000 interactions, read: "All he sees is the brother that loves him.
"If you read anything more into it, that's your own masculinity that needs to be checked. Not every thing about love or human emotion needs to be sexualized."
Sheilas Soares commented on her own Facebook page to say she was overwhelmed by the responses to her son's video and had posted it to show the "true love" between the brothers.
"I am proud of the children," she said on Wednesday.
"I wanted to show true love because special children are so discriminated, forgotten and not recognised."
You may also like:
Other commentators on Facebook shared their own experiences with family members. One user said: "My favourite Aunt on the planet had Down's. Anyone she even remotely cared about got a kiss on the lips. It was her way of showing affection. I would give anything to get one of her kisses again."
"My brother has special needs and he kisses all of us on the lips. It's nothing perverted or gross. He doesn't even think that way!" commented another Facebook user.
While another post read: "My youngest daughter has Down's syndrome and is very affectionate! I would never shame her for the love she shares with not only her sisters, but all people."
It is not the first time kissing family members on the lips has attracted attention. Last year former Manchester United player David Beckham defended kissing his five-year-old daughter. "We want to show our kids love," he said.
US actress Hilary Duff also received abuse last year after being photographed kissing her son at Disneyland in California.
By Rozina Sini, UGC and social news team