Colombia billiard hall attack kills nine in Catatumbo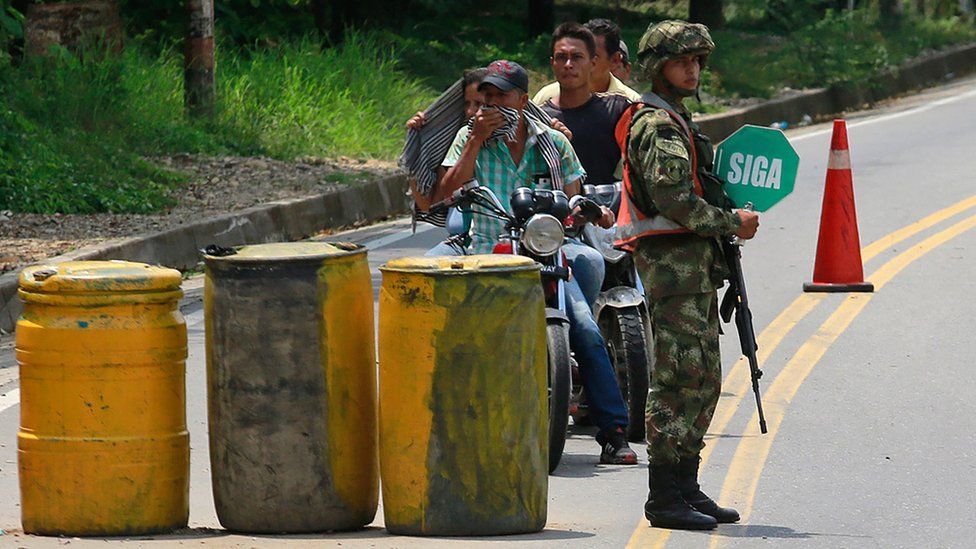 Nine people have been killed in a gun attack in north-east Colombia.
Armed men on motorcycles arrived at a billiard hall in the village of El Tarra in Norte de Santander province and opened fire on those inside.
The region on the border with Venezuela has been hit by a feud between rival left-wing rebel groups but right-wing paramilitary groups are also active in the area.
Thousands of people have been displaced as a result of the fighting.
Monday's incident happened in Catatumbo, an area with minimal police and army presence where groups are vying for control of key drug routes to Venezuela.
The number of dead rose from eight to nine after one of the injured died in hospital.
Local media said they suspected two feuding left-wing rebel groups to be behind the shooting. The National Liberation Army (ELN) guerrilla group and a breakaway faction, the Popular Liberation Army (EPL), have been engaged in a deadly fight for the past four months.
But both groups have published statements denying any involvement.
The ELN said right-wing paramilitary groups were to blame but did not offer any evidence for its allegation.
Colombia's president-elect, Iván Duque, who will be sworn into office next week, took to Twitter to condemn the attack.
He wrote that justice and the rule of law had to reach "all corners of the country" and called on the authorities to catch those responsible.
Repudiamos asesinatos en El Tarra. Los principios de legalidad y justicia tienen que prevalecer en todos los rincones del país. Autoridades deben esclarecer quiénes son los responsables y capturarlos. Solidaridad con los familiares de las víctimas.

— Iván Duque (@IvanDuque) July 30, 2018
Mr Duque was elected in June and one of his main campaign pledges was to increase security.
He has also expressed his opposition to peace talks between the ELN and the government saying he would make negotiations conditional on the ELN ceasing its attacks.
But analysts say reaching a deal with the smaller ELN group could prove more difficult as it is less hierarchical and ideologically less flexible than the Farc.
In the meantime, the army has been deployed to Catatumbo to boost security.