Yuko Fujii, the judo coach overthrowing gender stereotypes
By Anna Jean Kaiser
Rio de Janeiro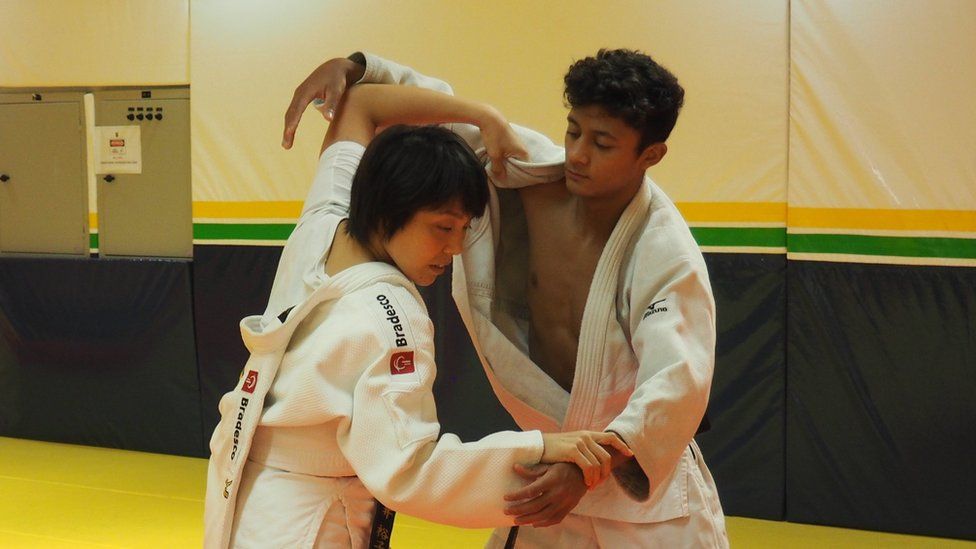 At Yuko Fujii's first judo practice, over 30 years ago in Japan, a little boy threw her head-first on the mat, and she never wanted to practise the martial art again.
Today, she has made history as the first female head coach of Brazilian men's judo.
In traditionally macho Brazil and in the male-dominant sports world, a female coach of the country's renowned judo programme was practically unthinkable.
In professional sports, it is uncommon for women to coach women's teams, and almost unheard of for women to coach men's teams.
So Yuko's appointment was an unexpected and welcome step forward for women, not just in judo but also in sports in general.
Women often face discrimination in sports in Brazil. In football, by far the country's most popular sport, for example, women are traditionally discouraged from taking part and renowned players like Marta Vieira da Silva receive relatively little recognition at home.
The only woman to ever coach the Brazilian women's national football team was fired after less than a year, prompting protests by players.
The Brazilian Judo Confederation hopes it is playing a part in changing that.
"Yuko is an excellent example of the increasing recognition of women's role in sports, especially since judo is a martial art that women have had restricted access to throughout history," says Ney Wilson, a confederation administrator.
"Our selection of Yuko as head coach for the men's team really surprised the judo world. I'm sure other federations and other sports teams in Brazil will follow the example."
Yuko says that she just wants to contribute "everything I have" to the team.
She defines her coaching style as totally geared to the individual. "I don't teach my own judo style to the athletes, I work with them based on their own strengths and weaknesses," she says.
"I never thought much about men versus women."
Jeferson dos Santos, a judoka on the Brazilian national team in the 73kg weight class, is one of the athletes being coached by Yuko.
He describes her as "attentive, technical and detail-oriented, phenomenal qualities for a coach".
"You come to Yuko with a question and she comes back with 30 answers," he says. "I was thrilled when I found out she would be our head coach."
Know your opponent's weakness
At a recent training event with top youth judokas from all over Brazil in the Rio Olympic Park, Yuko looks on as her students practise throwing each other on to the mat using a move she has just taught.
"That's it," she says in Portuguese, sometimes jumping into a pair and throwing one of her students over her back and on to the mat.
"You've got to feel which joints in your opponents arms go weak and use that to dominate."
After initially swearing to never go back to judo as a little girl, Yuko's mother encouraged her to stick with it and she had a successful youth career in Japan, complete with a college scholarship.
She only considered coaching when thinking of ways she could move abroad to learn English. Her judo skills got her the opportunity to teach the sport at the University of Bath in the UK and later with Team GB.
Coaching proved difficult at first. Yuko says she "suffered" teaching children who always questioned what the point of her tactics was.
But she says that it also inspired her to discover the sport from a more technical, detailed standpoint, which turned into a love for coaching.
After working with Team GB for the 2012 Olympics, she caught the eye of the Brazilians, who hired her as an assistant technical coach for both men and women, where she trained the local hero of the Rio Olympics, gold medallist Rafaela Silva.
Yuko says she was nervous at first upon being named head coach for the men's team.
"I was embarrassed coaching men. I didn't know that what I had as a coach was valuable to them," she explains.
"I started individual training with one athlete and we talked a lot about details and strategy based on his specific skills. We both started to gain confidence in each other and ourselves.
"All my coaches have always been men - that was just the norm - but if a person has the potential, they have to be given the opportunity," she says.
After being named head coach, Yuko received an outpouring of support from other women in the industry, which made her realise both the weight of her accomplishment and also just how little space there is for women in sports.
"But if I can become the head coach of men's judo in a macho country like Brazil, I think that's a signal that things are changing and more doors will start to open."