Colombia's new president Iván Duque: Puppet or rock star?
By BBC Monitoring
The world through its media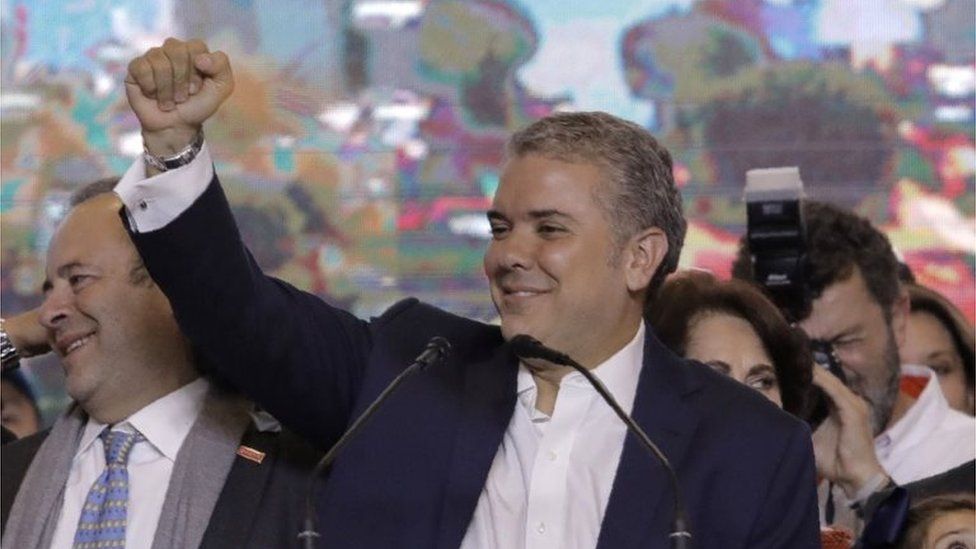 "A jovial figure lending a fresh face to traditional conservative politics."
But while the 41-year-old is seen as a breath of fresh air by some, others are worried about the future of Colombia's peace agreement following his win in Sunday's election.
The candidate for the right-wing Centro Democrático (Democratic Centre) party has said he will revise aspects of the November 2016 peace deal with the now-demobilised Farc (Revolutionary Armed Forces of Colombia) rebel group.
Mr Duque argues that the peace deal is too lenient on former guerrilla fighters accused of war crimes.
He has also presented himself as a pro-business candidate and has said that he will take a hard line against corruption and drug-trafficking.
A relative political novice, he has the backing of former President Álvaro Uribe Velez, who governed from 2002 to 2010.
Mr Duque has described Mr Uribe, who remains a powerful force in Colombian politics, as his mentor.
It was with Mr Uribe's endorsement that Mr Duquie was selected by the Democratic Centre to be its presidential candidate.
Under Colombia's constitution, Mr Uribe was not allowed to seek re-election and many of Mr Duque's critics argue that the newly elected president could be guided or even controlled by the ex-leader.
You may also be interested in:
While Mr Duque publicly professes loyalty to Mr Uribe's conservative ideology, he insists that he will make his own decisions.
"I am not a puppet and he [Uribe] is not the puppeteer," he told Colombia's Blu Radio last month.
Mr Duque won convincingly in the second round with 54% of the vote, against 42% for his left-wing rival, Gustavo Petro.
Many of those who voted for Mr Duque said they liked what they saw as his "market-friendly" approach.
While his supporters highlight his approachable personality - Mr Duque led a rock music band while in high school - critics say he lacks the political experience required to lead the Latin American nation.
They argue that his opposition to aspects of the peace deal with the Farc could lead to a reigniting of the armed conflict that raged for decades in Colombia.
A technocratic background
Iván Duque was born into a well-off, politically connected family from the capital, Bogotá. His father was governor of Antioquia province and later minister of mining and energy.
He graduated with a law degree from Sergio Arboleda University in Bogota and also studied law and public administration in the US - at American University and Georgetown University in Washington DC.
He has written four books, mostly focused on economic issues, and served as adviser to then-minister of finance Juan Manuel Santos, who later became president.
Mr Duque served at the Washington-based Inter-American Development Bank (IDB) before entering politics four years ago, when he was elected senator for the Democratic Centre party.
During his victory speech he promised to unite the country after a campaign that highlighted sharp divisions between the right and left.
Mr Duque will take over from President Santos in August.
BBC Monitoring reports and analyses news from TV, radio, web and print media around the world. You can follow BBC Monitoring on Twitter and Facebook.