Guatemala volcano: Lava ash like 'black rain'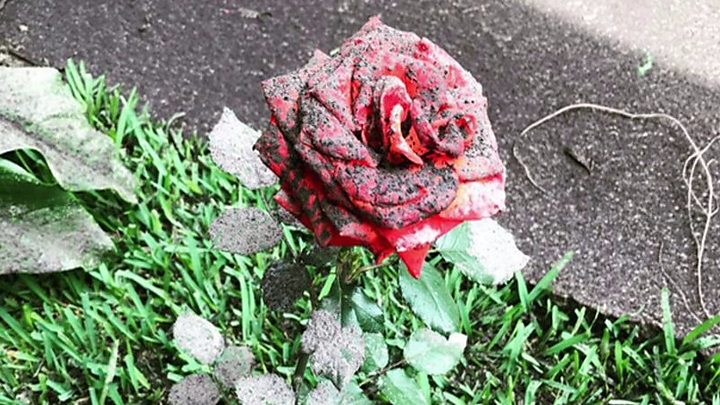 Londoner Faye Dunstan is manager of the Oxford Language Centre in Antigua, close to Guatemala's Fuego volcano. She describes the day the volcano erupted and the rescue effort she has been involved with in the village of Alotenango.
"We were just sitting at home and then suddenly there was rain from the sky but it was black and it was lava ashes," the 29-year-old told the BBC.
"No one really thought it was a big deal so everyone was out taking selfies.
"Everyone was walking and laughing. The volcano has erupted before so no one thought it was a big deal.
"But then we were driving and the police were stopping everyone from driving.
"This is in Antigua, Guatemala. The biggest tourist region 11 miles away from the volcano.
"So we were driving through the city in a tuk tuk. People were coming out of their houses and restaurants to hose down all of the cars.
"There was lava ash everywhere. But still no one really realised that it was that bad of a situation until later on Facebook when the news kept coming in.
"It started with seven people dying. The number rose to 25 and then 33.
"All the schools are closed here. Everyone is sweeping the lava ash.
"My school and I got together. I had raised some money online through Facebook so we went to the supermarket and bought supplies.
"We bought toilet paper and medicine.
"We drove to Alotenango, which is where the eruption happened.
"In Alotenango police were everywhere. The organisation was very DIY. A public school was open and trucks were coming in one by one.
"People were taking the supplies off the trucks. Around 100 people were standing next to each other and passing all the supplies along.
"In Antigua people are collecting donations on street corners. Everyone has lava ash in their hair.
"There are schoolchildren everywhere because the schools are closed.
"People in neighbouring villages are scared there will be an aftermath.
"But everyone is coming together. There are endless supplies of water, food and clothes.
"It's a big community effort. They just need sanitary stuff and medicine.
"Medicine is much more expensive here.
"We went back to help on Tuesday."