Nicaragua unrest: Government colluding with mobs, says Amnesty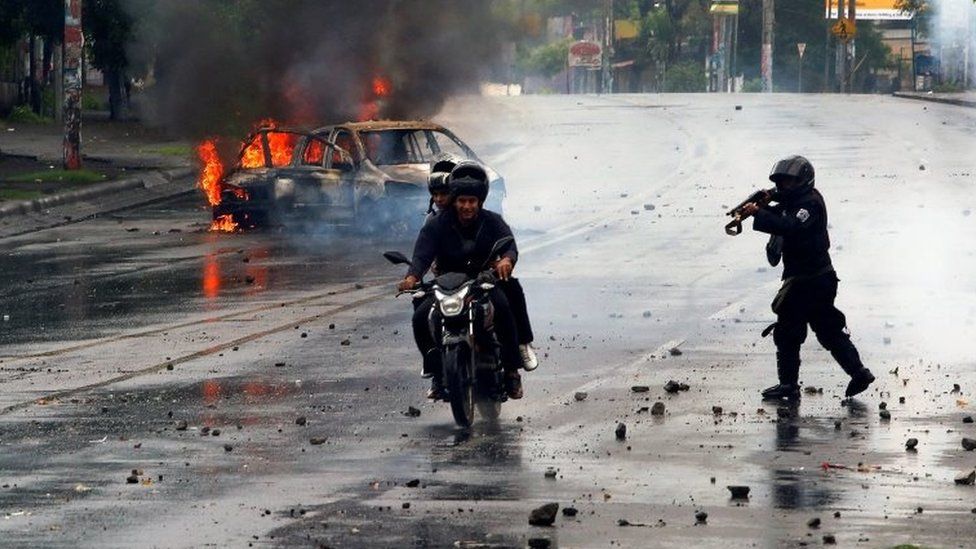 Amnesty International has accused the Nicaraguan government of colluding with paramilitary groups to suppress weeks of student-led demonstrations against President Daniel Ortega.
It said the groups used semi-automatic weapons and co-ordinated their attacks with the security forces.
Around 80 people have died so far in the protests.
They began in April, triggered by welfare reforms but turned into a rejection of the Ortega government.
The Amnesty International (AI) report said the armed groups were often made up of pro-government students and motorcyclists, sometimes identifiable by clothing linking them to the authorities.
"These groups appear to be acting with the acquiescence of the state, as is demonstrated firstly by the fact that most of the attacks were committed by private individuals in the presence of or in co-ordination with the security forces," the report said.
"Secondly, by the fact that the police did not pursue the perpetrators after the crimes were committed, but rather allowed them to flee the scene and disperse."
Arturo Wallace, BBC News, Managua
The possibility of extrajudicial killings had already been highlighted in another damning report by the Inter-American Commission on Human Rights (IACHR), an independent body ascribed to the Organisation of American States (OAS).
But AI's report goes a couple of steps further by suggesting that lethal action was likely taken with the knowledge of President Ortega.
The pattern identified by AI - use of live ammunition often shot from an elevated position and aimed to the upper body - also matches the description given to BBC News by one of the surgeons who attended to the many injured during the first week of the protests.
"It was like being in a war zone," said the doctor, who asked not to be identified because of a fear of reprisals.
And the situation remains quite volatile.
The AI team, currently in Nicaragua, was caught in an attack by pro-government gangs and security forces against one of the local universities involved in the protests.
Later, AI's America's director, Ericka Guevara-Rosas, said at least 41 students had been injured and one had died.
Amnesty International has called on the Nicaraguan government to permit the creation of an international commission of independent experts to begin investigating the killings.
Earlier this month, the IACHR visited Nicaragua and said it had seen grave violations of human rights during the protests - characterised, it said, by the excessive use of force by state security forces and armed third parties.
Congress speaker Gustavo Porras said the five-member panel of investigators would act independently of the legislature and be free to research where they wanted.
Street protests erupted last month when President Ortega approved cuts to pensions and social security.
He later revoked his plans but the demonstrations turned into broader unrest against his government.