Nicaragua unrest: Protesters confront Ortega in televised debate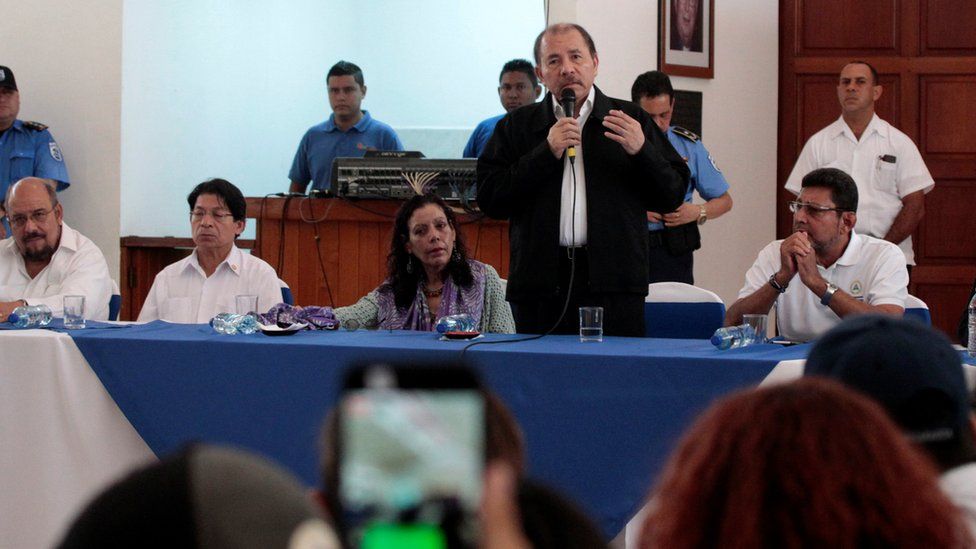 Nicaraguan President Daniel Ortega and opposition groups have traded angry accusations in a televised debate designed to ease weeks of unrest.
Mr Ortega said criminals and gang members had infiltrated opposition protest rallies but student activists branded him "a murderer".
More than 50 people, mostly students, have been killed in the protests.
They began when President Ortega approved cuts to pensions and social security.
Wednesday's debate in the capital Managua - referred to as the first session of "national dialogue" - was mediated by the Roman Catholic Church and broadcast live on national TV.
President Ortega said the aim of the talks was to restore peace and to "get past this tragic moment".
But he was interrupted by students who called for "an end to the repression". They read out the names of those who had been killed in the unrest.
"We have come to demand you order the immediate halt of the attacks. You're the boss of the paramilitaries, of the troops, of the mobs backing the government," said Lester Aleman, a leader of the student coalition.
Mr Ortega said deaths had happened "on all sides", not just among the protesters, adding that police now had orders to not open fire.
Union leaders at the meeting called for an interim government to take over until fresh election could be called.
Cardinal Leopoldo Brenes, the archbishop of Managua, urged both sides to come together to break the cycle of violence.
Protesters shouted anti-Ortega slogans as the president left at the end of the day and chanted: "The people, united, will never be defeated."
Another round of talks is due to be held on Friday.
The street protests have become the biggest challenge to Mr Ortega's authority since he took office in 2007.
He revoked his plans to overhaul the social security system but the demonstrations turned into broader unrest against his government.
Mr Ortega is a former left-wing Sandinista guerrilla who helped to overthrow the dictatorship of Anastasio Somoza in the 1970s.
However, his critics accuse him and his wife Rosario Murillo, who is his vice-president, of also behaving like dictators.