US offers $2.5m in aid to Venezuelans in Colombia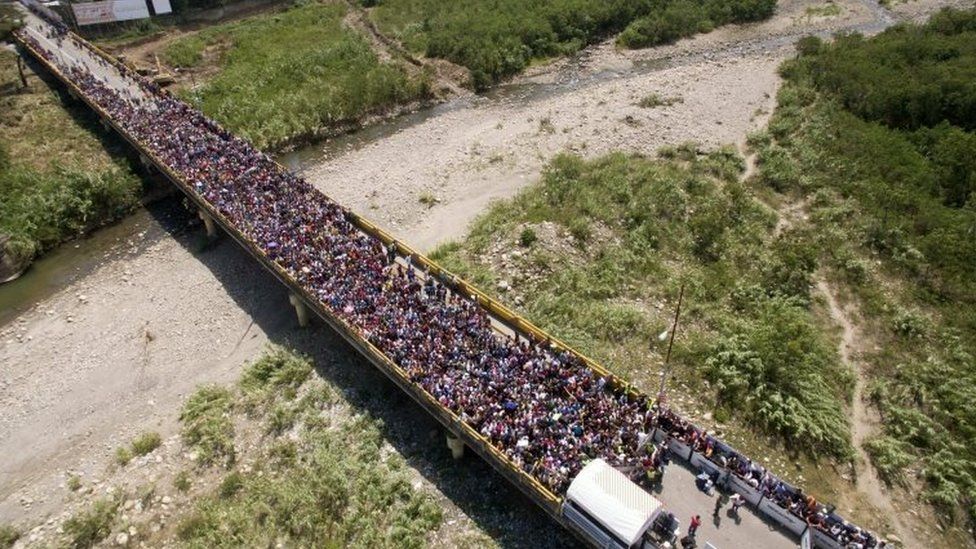 The US has announced it will provide $2.5m (£1.8m) in aid to Venezuelans who have fled the economic crisis in their homeland for neighbouring Colombia.
Venezuela is experiencing severe shortages of medicines and basic goods.
The US said the money would provide fleeing Venezuelans and the Colombian communities hosting them with emergency food and health assistance.
Colombian officials estimate that about 600,000 Venezuelans have crossed the border in recent years.
The United Nations has called the exodus from Venezuela into neighbouring countries a "humanitarian disaster".
The announcement about "this initial, and immediate commitment of $2.5m" was made by the administrator of the US Agency of International Development (USAid), Mark Green.
Mr Green put the blame for the Venezuelan exodus on the government of President Nicolás Maduro.
"Regrettably, this crisis in Venezuela, which is now spilling into the broader region, is man-made - the result of continued political mismanagement and corruption by the Maduro regime," Mr Green said.
The US government has been highly critical of President Maduro and has placed sanctions on him and other high-ranking members of his government and the military.
The economic and political crisis in Venezuela has also been one of the main talking points in a meeting between Colombian President Juan Manuel Santos and Brazilian President Michel Temer in Brasilia on Tuesday.
While the number of Venezuelans which have crossed into Brazil is believed to be in the tens of thousands rather than the hundreds of thousands who left for Colombia, Brazilian border states are feeling the strain.
On Tuesday, Venezuelans who were squatting in a building in the town of Mucajaí in Roraima state in northern Brazil were driven out by residents angry over the killing of a local person.
About 300 residents protested in front of the building and burned the possessions of the Venezuelan migrants after police said the two suspects in the murder were Venezuelan nationals.