Guatemalan ex-president to face trial for corruption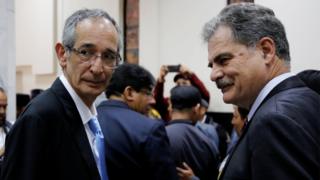 A former president of Guatemala, Alvaro Colom, and most of his former cabinet are to be tried for alleged corruption.
The case centres on a $35m (£28.5m) contract to buy public buses in 2009. Prosecutors say the amount was inflated, with much of the funds being improperly spent.
Mr Colom, who was in power between 2008 and 2012, denies any wrongdoing.
His ex-finance minister Juan Alberto Fuentes, until recently chairman of Oxfam International, is also accused.
The case comes during a difficult period for the charity, which has been embroiled in an escalating sexual abuse scandal.
Oxfam has defended Mr Fuentes, pointing out that the alleged corruption took place before his appointment as chairman and that he maintains his innocence. Mr Fuentes resigned after his arrest on 13 February and made no comment when he appeared in court on Thursday.
Eleven other former cabinet members also face charges of fraud. Mr Colom and Mr Fuertes have been additionally accused of embezzlement due to their "direct knowledge" of the matter, the adjudicating judge said.
Mr Colom, 66, is not the first Guatemalan president to face corruption charges.
Current president Jimmy Morales, a former television comedian, came under international fire last year for attempting to expel a prosecutor from a UN-backed commission, seeking to put him on trial for alleged corruption.
Morales's predecessor, former President Otto Perez, is currently behind bars, awaiting trial on graft charges uncovered by that same commission.
Alfonso Portillo, who was in office between 2000 and 2004, pleaded guilty to attempting to launder a $2.5m (£1.6m) Taiwanese bribe in US banks and was released from a US prison in 2015.