Mexican tarantulas: Canada exports more varieties than Mexico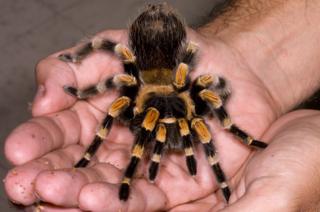 Canada exported more varieties of Brachypelma tarantulas over a 10-year period than Mexico, Mexican officials say.
There is a growing market for the creatures, which are popular pets.
Mexican biodiversity official Hesiquio Benítez said he had been shocked to find Canadian exporters sent more varieties of the spider abroad than Mexico, where they are originally from.
Canadians were exporting 12 species, while Mexicans only traded in nine.
He said that until a few years ago, Canada would buy its tarantulas from Mexico and then sell them on, but that growing demand had led Canadians to start breeding their own.
"Canada doesn't have any native species [of tarantulas] but they've got their act together," Mr Benítez told news agency Efe at an international tarantula workshop in the Mexican city of Guadalajara.
In Mexico on the other hand, 14 out of the 24 species of the red-knee tarantula (Brachypelma smithi) can be found in the wild, according to Mexico's Biodiversity Commission, Conabio.
Mexican red knee tarantula
Leg span of up to 5.5in (14cm)
Originates from the Pacific coast of Mexico
Long lifespan of up to 25 years
Considered by breeders to be "generally docile and calm"
These tarantulas are particularly popular in Asia, Europe and the US because of their vibrant colours, and an adult spider can fetch up to $425 on the black market.
To legally export them, a permit issued by the Convention on International Trade in Endangered Species is required.
Mexican breeders legally produce between 11,000 and 14,000 yearly, most of which are exported to Canada and the US.
Mexican officials said the aim of the workshop was to find ways of fostering the sustainable and legal trade in the animals, as well as training indigenous communities to safeguard the spiders' habitat.
Update 19 March 2018: This article has been updated to clarify that Mexican officials were referring to the variety, rather than quantity of exported tarantulas.