Spain expels Venezuela's ambassador in tit-for-tat move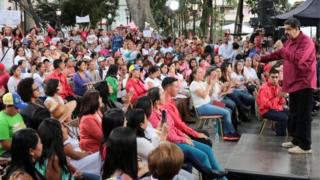 Spain has declared Venezuela's ambassador to Madrid, Mario Isea, persona non grata.
On Thursday Venezuela announced it was expelling the Spanish ambassador to Caracas, Jesús Silva Fernández.
It accused him of interfering in Venezuela's internal affairs.
Spain says it will continue denouncing human rights violations allegedly committed by President Nicolás Maduro's government but it denies any undue interference.
Venezuela's foreign ministry has given Mr Silva Fernández until Sunday to leave the country.
Mr Maduro has accused Spain's Prime Minister Mariano Rajoy of taking orders from President Donald Trump during a meeting in September to push for European Union sanctions.
On Monday, the EU imposed a travel ban and froze the assets of seven senior Venezuelan officials.
It has expressed concern over human rights violations during anti-government protests in which more than 120 people were killed last year.
In a statement, Spain's Foreign Minister Alfonso Dastis said he regretted having to retaliate against Venezuela and stressed that the EU sanctions had been unanimously approved by its 28 members.
"All we have done from the beginning was helping the process," he wrote.
"We have led in the EU efforts to identify effective pressure mechanisms to get effective negotiations [between the government and the opposition] under way in Venezuela," added Mr Dastis.
'Economic sabotage'
On Tuesday Venezuela's Constituent Assembly announced that it was calling early presidential elections.
Foreign Minister Jorge Arreaza said the move was in reaction to the EU sanctions.
The vote, which is traditionally held in December, will take place by the end of April.
Mr Maduro, who will stand for another six-year term, said it was time "to put an end to the imperialist threat".
Venezuela has the world's highest inflation rate and has for years struggled with the shortage of basic goods, including medicines.
Mr Maduro blames "international economic sabotage" - which he said was led by Spain and the US - for the situation.
"Donald Trump won't make decisions in Venezuela, [Spanish Prime Minister] Mariano Rajoy won't make decisions in Venezuela. The people of Venezuela will," he told thousands of his supporters at a rally in Caracas on Tuesday.
Last month Venezuela expelled the Brazilian and the Canadian ambassadors to Caracas, also accusing them of interference.
Brazil and Canada retaliated by expelling their respective Venezuelan ambassadors.