Venezuela helicopter attack pilot Oscar Pérez buried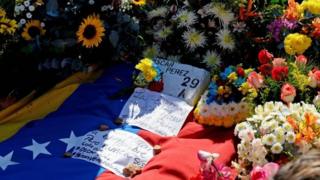 The Venezuelan authorities have allowed a rebel police officer who was killed by the security forces to be buried.
Oscar Pérez was labelled a "terrorist" by the government after he threw grenades at government buildings from a helicopter he stole last June.
He then went on the run but was tracked down by the authorities and killed after a nine-hour long siege near the capital, Caracas, on 15 January.
Only two relatives were allowed to witness Sunday's early morning burial.
Supporters and friends later came to the grave at a cemetery in Caracas to lay flowers and pay their respects.
Authorities initially refused to release the body to family members, leading to days of delays and uncertainty about whether the funeral would be allowed to take place.
But the body was eventually released and buried.
Pérez had been a member of the forensic police (known as the CICPC by its initials in Spanish) for 15 years before he became Venezuela's most talked-about man.
He managed to elude the security forces for almost seven months, and made at least one appearance at an opposition rally where people cheered and took selfies with him.
Before launching his helicopter attack, Oscar Pérez recorded a video message in which he appeared in front of a group of masked and armed men.
The video emerged at the height of anti-government street protests and he said he was fighting against President Nicolás Maduro's "tyranny" and his "narco-dictatorship."
Following the attack, President Maduro declared him a terrorist and said he was attempting to mount a coup.