Pope Francis meets sex abuse victims in Chile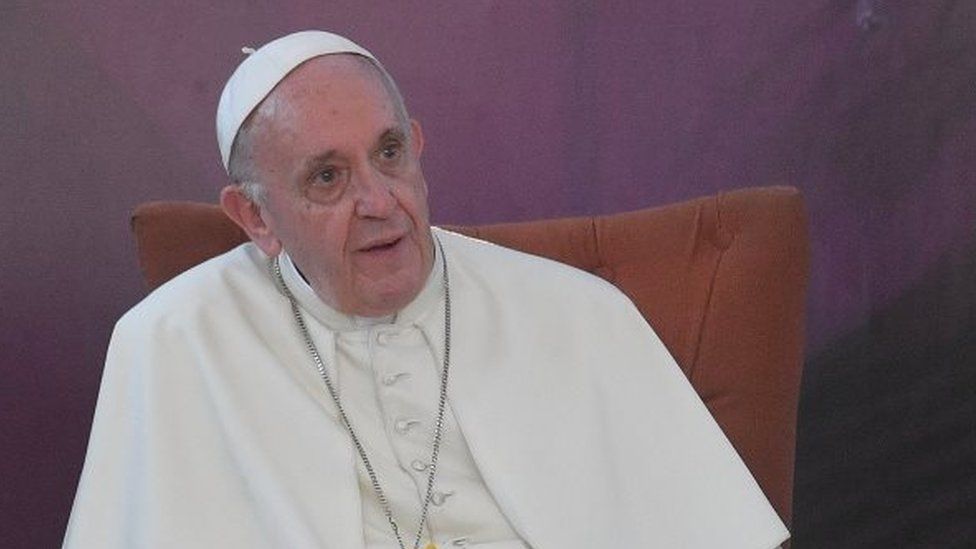 Pope Francis has met a group of victims of sexual abuse by priests in Chile.
The meeting at the Vatican's mission in Santiago was "strictly private", his office said, providing no further details.
Earlier during his visit to Chile, the Pope felt "pain and shame" over the sex abuse scandal, asking the victims for forgiveness.
He has been criticised in Chile for a decision to ordain a bishop accused of covering up sexual abuse by a priest.
Francis also mentioned the issue when he said Mass for some 400,000 people in Santiago on Tuesday.
"I know the pain of these cases of child abuse and I am following how much is needed to overcome this serious and painful evil," he said.
He spoke of his sympathy with "victims and their families, who have seen their trust in ministers of the Church betrayed".
Francis has said in the past that dealing with abuse is vital for the Church's credibility, and that "sanctions" must be imposed against perpetrators.
But critics in Chile say he failed to respond to their request to review the appointment of Juan Barros as bishop of Osorno.
Parishioners in the southern Chilean city say Bishop Barros used his position in the Church to try to block an investigation into the actions of his mentor, Catholic priest Fernando Karadima.
The case of Fr Karadima, an influential priest who was found guilty by the Vatican of sexually abusing young boys and ordered to do penance, shook the Catholic Church in Chile.
Pope Francis said on Tuesday that he was sorry for the "irreparable harm" caused to the victims of sexual abuse by Church ministers.
On Monday, activists fighting for the rights of sexual abuse victims gathered in Santiago for a conference.
They launched an organisation called Ending Clerical Abuse which "seeks to stop child sexual abuse by the clergy" worldwide.
One of the activists, Juan Carlos Cruz, told the BBC: "[Saying sorry] is not sufficient for a survivor. What we want is for the Pope to take action."
Under Pope Francis, a Vatican committee has been set up to fight sexual abuse and help victims but Chilean victims of clerical sex abuse say more transparency is needed.