Colombia cocaine: Huge haul found in banana shipment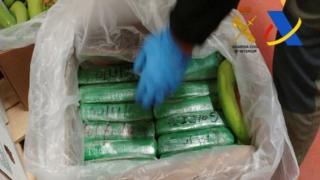 Almost six tonnes of cocaine have been found hidden among bananas on board a ship in the port of Algeciras, in southern Spain.
The seizure by police and customs officers is one of the largest of the drug to be made in Europe in the last two decades.
The stash is estimated to be worth $249m (£185m).
The shipment came from the Colombian city of Medellin and was headed for the Spanish port city of Barcelona.
Police have not revealed what raised their suspicion about the shipment but after unsuccessfully searching two containers, the third one they opened yielded the cocaine.
Spain's Guardia Civil paramilitary police said three people had been arrested: a Spaniard who is believed to be the ringleader of the drugs gang, a Honduran national and a Portuguese citizen. Two more people are also being investigated.
The find is the second largest cocaine seizure to be made in Spain. In 1999, 7.6 tonnes were found aboard a trawler manned by a crew of Russians and Belarussians.
In 2016, 171kg of cocaine were found inside fake bananas in the same port but this time the cocaine was hidden among real bananas.
Smuggling cocaine among bananas also went wrong for one drugs gang in 2010 when neatly packed parcels of the drug were found by a worker stacking fruit in a supermarket in Madrid.