Honduras incumbent Hernández leads after vote recount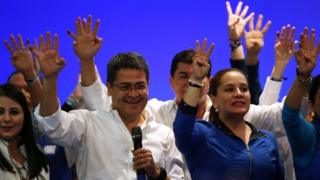 The incumbent in the presidential poll in Honduras has retained a lead of 1.59 percentage points over his closest rival after a partial recount of votes, electoral authorities have announced.
With 99.96% of votes counted, President Juan Orlando Hernández had won 42.98% against Salvador Nasralla's 41.39%.
The electoral tribunal has yet to declare an outright winner.
The closely fought poll has triggered a political crisis with Mr Nasralla alleging his votes had been "stolen".
No change after recount
The head of the electoral tribunal, David Matamoros, said a recount of approximately 6% of the votes had concluded and that President Hernández remained in the lead.
He said that the tribunal would not yet declare an official winner because the parties could still file legal challenges and the tribunal could still consider a wider recount than the one it had carried out.
The delay in publishing the final results of the election, which was held eight days ago, has caused anger among Hondurans, who have taken to the streets outside the electoral council in protest.
At least three people have been killed in violent clashes and hundreds have been arrested.
Supporters of Mr Nasralla cried foul after their candidate's initial lead of five percentage points dwindled and he was overtaken by Mr Hernández, who is running for an unprecedented second term in office.
Distrust over the count is partly due to the fact that the tribunal is appointed by Congress, which is controlled by Mr Hernández's National Party, and partly due to the sudden reversal of Mr Nasralla's initial lead.
Mr Nasralla and his supporters boycotted Monday's recount because in their view it did not go far enough, examining only just over 1,000 boxes instead of the more than 5,000 they were demanding be probed.
Without an official election result, tension in the country remains high.
A night-time curfew is still in place but has been largely ignored by protesters who burned tyres and erected barricades in the capital, Tegucigalpa.