Orinoco accident: Divers search for 10 missing people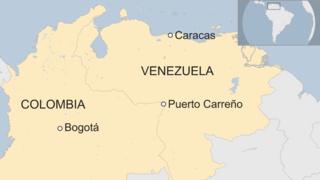 Colombian navy divers are searching for 10 people who disappeared on Tuesday after their boats capsized in the Orinoco river, which divides Colombia from Venezuela.
A total of 18 people were on board the boats, eight of whom were rescued.
Witnesses said one of the boats had a mechanical problem and was being towed by the other one when they hit a rock about 30m (100ft) from the shore.
The accident happened 10km (6.2 miles) downstream from Puerto Carreño.
A local government official, Diego Zárate, said of the eight people rescued two were Colombians and six Venezuelans.
Among the missing are thought to be a number of children.
Witnesses said the boat with mechanical problems was transporting watermelons while the one that came to its rescue was carrying passengers.
But a Colombian navy official said he did not know what the two vessels were doing navigating the fast-flowing river in the early hours of Tuesday when it was still dark.
A search of the riverbanks has so far yielded no result.