Colombian elephant gets tusk-saving surgery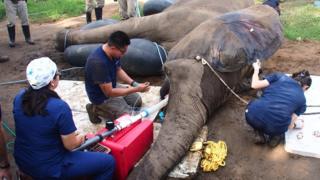 The zoo in the Colombian city of Barranquilla successfully performed surgery on a five-tonne African elephant found on a ranch owned by drug traffickers.
Thirty people were involved as the elephant, named Tantor, was sedated for three hours.
Root canal work was performed on a cracked tusk.
Over a hundred people raised money for the operation, which cost over $8,500 (£6,500).
Police had to close off the road outside the zoo and divert traffic to install a crane in case the elephant had to be lifted during the procedure.
The operation should have taken place two years ago when Tantor damaged his tusk, but there were delays in obtaining the special anaesthetic used for large vertebrates.
Special odontological equipment had to be designed and built for the surgery.
Tantor was taken to the zoo in Barranquilla in April 1991 after he was found by Colombia's National Narcotics Agency on a ranch owned by drug traffickers, along with other animals that were being illegally traded.
He is believed to be about 50 years old.