Brazil's Chapada dos Veadeiros park ravaged by fire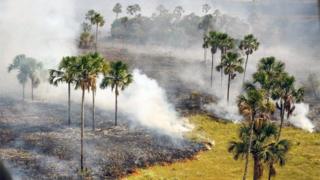 A fire in a national park in the state of Goias in central Brazil has destroyed almost a quarter of the protected area.
The park's director told BBC Brasil [in Portuguese] he suspected arson was the cause of the fire.
Chapada dos Veadeiros national park is a Unesco World Heritage site and famous for its biodiversity.
About 54,000 hectares (130,000 acres) have been razed by the fire so far, park officials said.
Park director Fernando Tatagiba said the fire had started inside a firebreak, an area cleared of vegetation by park officials to prevent blazes from spreading, leading him to believe it was started deliberately.
Despite more than a hundred people fighting the fire, it still has not been brought under control.
Haven for wildlife
About 60,000 people visit the park annually, but due to the fire the park has been closed for visitors.
Officials said the fire was the worst in the the recent history of the park, which was created in 1961 by the president at the time, Juscelino Kubitschek.
In June, the government increased the park's size from 65,000 to 240,000 hectares, a measure welcomed by environmentalists.
The fire, which started on 17 October, has so far destroyed at least 22% of the area.
The park harbours many threatened species such as pampas deer, jaguars and giant armadillos.
It is also home to the Brazilian merganser duck, one of the most threatened waterfowl in the world.