Mexico earthquake: New tremor halts rescue operations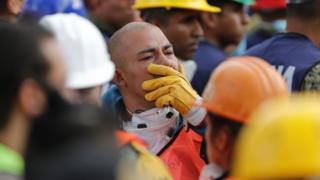 A strong tremor in southern Mexico temporarily suspended the search for survivors of this week's powerful earthquake in the capital, Mexico City.
People ran into the streets as alarms sounded after the magnitude 6.1 quake hit the state of Oaxaca, some 520km (323 miles) south of Mexico City.
Some buildings already damaged and a bridge collapsed in the state.
Tuesday's quake left at least 305 dead. Hope is fading that more survivors can be rescued from the rubble.
Saturday's earthquake struck near the city of Matias Romero at 07:53 local time (12:53 GMT) and was relatively shallow, with a depth of 9km, the US Geological Survey said.
Mexico's disaster agency said it was an aftershock of the magnitude 8.1 earthquake that hit the state on 7 September, in which at least 90 people died.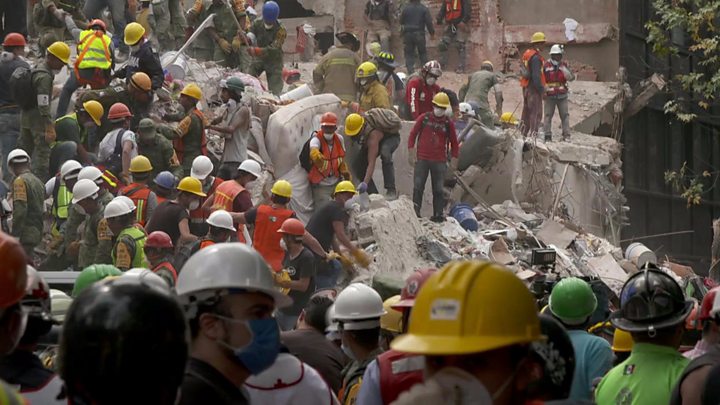 The tremor was mild in Mexico City but thousands of residents, many wearing pyjamas, ran into the streets when seismic alarms sounded.
"We were about to have breakfast and drink coffee when we felt the movement and we got up and stood underneath the door frame," resident Antelma Lopez told Reuters news agency.
There were no reports of new damage in the capital and rescue efforts were still the priority, Mexico City's Mayor Miguel Ángel Mancera said on Twitter (in Spanish).
He said that two people had died from heart attacks - local media said the victims were women aged 58 and 83.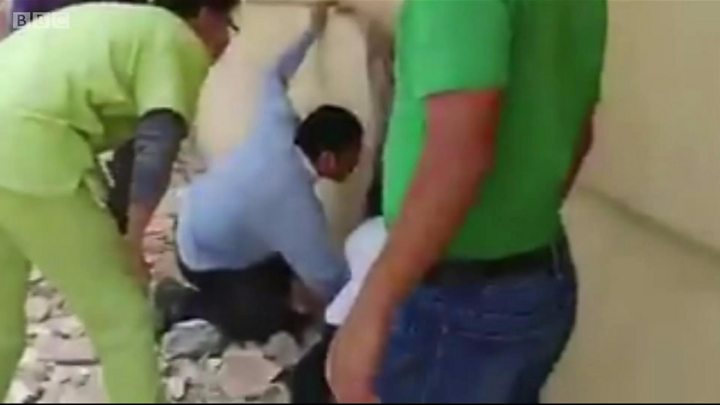 The country's elite team of rescuers, known as "the moles", are leading the volunteer rescue efforts. The group was formed in the wake of the devastating 1985 earthquake that killed up to 10,000 people.
Tuesday's quake struck shortly after many people had taken part in an earthquake drill on the 32nd anniversary of the 1985 disaster.