Hurricane Irma: Time runs out for Florida evacuation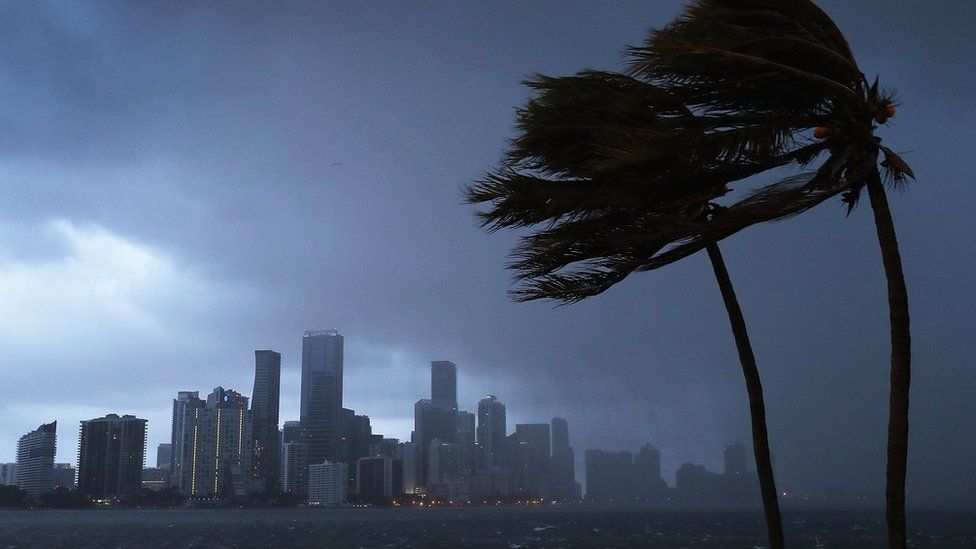 Florida's state governor has told residents who were ordered to leave their homes to go to shelters and avoid the roads as Hurricane Irma approaches.
Rick Scott said it was now too late to drive away from the danger areas.
After devastating several Caribbean islands, Irma is lashing Cuba with strong winds and heavy rain, and is due to reach Florida on Sunday.
Some 6.3 million people, more than 25% of the US state's population, have been ordered to evacuate.
The hurricane made landfall on the Sabana-Camaguey Archipelago, in Cuba's north-east, late on Friday as a category five storm but has now weakened to a category three.
After moving slowly along the northern Cuban coast it is now heading out to sea towards Florida.
It says Irma has maximum sustained winds of 120mph (193km/h).
It was the first category five hurricane to hit Cuba in more than 80 years, and it is expected to strengthen again before reaching Florida.
At least 24 people are so far known to have died as Hurricane Irma progressed across the Caribbean throughout the week.
What is happening in Florida?
Irma is expected to hit the coast at around lunchtime on Sunday, but the outer bands are already affecting the south of the state and central Miami is being lashed by heavy rain.
The Florida Keys - a chain of small islands to the south - have suffered some minor damage and are expected to bear the brunt of the storm on Sunday morning.
The head of emergencies agency Fema, Brock Long, told CNN there were "no safe areas within the Keys".
"You put your life in your own hands by not evacuating," he added.
"If you're in an evacuation zone, you've got to get to a shelter need to get to a shelter... there's not many hours left", Gov Scott warned residents.
"The winds are coming, there is not gonna be a lot of time now to be able to drive very far."
Thousands of people on the mainland are currently without electricity, energy provider Florida Power and Light reported.
The western Gulf coast is expected to be worst affected, with cities such as Tampa and St Petersburg in the path of the storm.
The Tampa Bay area, with a population of about three million, has not been hit by a major hurricane since 1921.
And there are fears that storm surges combined with high tide on Monday could overwhelm some low-lying areas.
Gov Scott said that storm surges in coastal areas could be as high as 15ft (4.6m), adding that people "cannot survive this".
Some 50,000 people have gone to shelters throughout the state, the governor said. Media reports say shelters in some areas have been filling up quickly and some people have been turned away.
Miami city and Broward county have imposed curfews to help clear the roads of traffic.
What do we know about the situation in Cuba?
Cuban officials have reported "significant damage", without giving further details, but said there were no confirmed casualties yet, AFP news agency reported.
However, if the devastation seen elsewhere in the Caribbean is anything to go by, many Cubans fear the worst, the BBC's Will Grant in Havana reports.
The state weather service has forecast waves up to 9m high in some coastal areas. There have been reports of huge waves breaking over sea walls, particularly in the fishing village of Caibarien.
Power lines have been brought down in several parts of the central province of Camaguey, and transport links to at least one of the outlying islands have been cut off.
Thousands of people have been evacuated but many others stayed to ride out the storm.
Irma continued along Cuba's northern coast, as the government extended its alert to more provinces - including Havana, where waves are crashing over the capital's sea wall.
Which other areas have already been hit?
St Martin and St Barthelemy: Six out of 10 homes on St Martin, an island shared between France and the Netherlands, now uninhabitable, French officials say. They said nine people had died and seven were missing in the French territories, while two are known to have died in Dutch Sint Maarten
Turks and Caicos Islands: Widespread damage, although extent unclear
Barbuda: The small island is said to be "barely habitable", with 95% of the buildings damaged. Antigua and Barbuda Prime Minister Gaston Browne estimates reconstruction will cost $100m (£80m). One death has been confirmed
Anguilla: Extensive damage with one person confirmed dead
Puerto Rico: More than 6,000 residents of the US territory are in shelters and many more without power. At least three people have died
British Virgin Islands: Widespread damage reported, and five dead
US Virgin Islands: Damage to infrastructure was said to be widespread, with four deaths confirmed
Haiti and the Dominican Republic: Both battered by the storm, but neither had as much damage as initially feared
What about Hurricanes Jose and Katia?
Another storm, Jose, further out in the Atlantic behind Irma, is now a category four hurricane, with winds of up to 233km/h (145mph).
It is following a similar path to Irma and already hampering relief efforts in some of the worst affected areas.
Residents of Barbuda, where 95% of buildings have been destroyed by Irma, left the island as Jose approached but it is no longer expected to hit.
However, hurricane warnings are in place for St Martin and St Barthelemy, both also hit by Irma.
Hurricane Katia, in the Gulf of Mexico, a category one storm with winds of up to 75mph, made landfall on the Mexican Gulf coast in the state of Veracruz late on Friday.
It has now weakened to a tropical depression.