Hurricane Irma: How does it compare to other category five storms?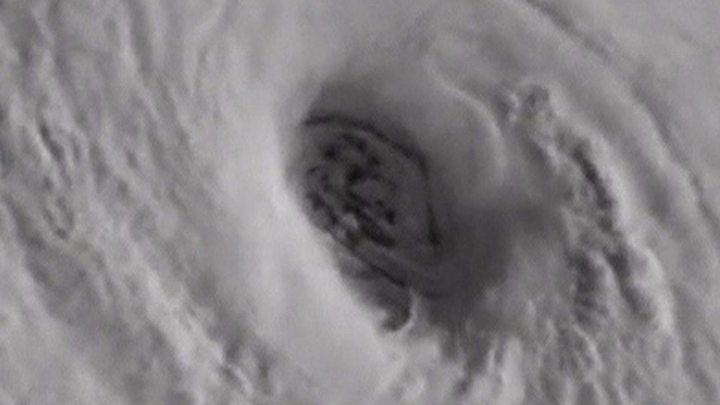 Hurricane Irma is now one of the most powerful storms ever recorded in the Atlantic basin.
As a category five hurricane with 295km/h (185mph) wind speeds, it will go down in history as the the longest-lasting top-intensity cyclone ever recorded.
As it barrels across the Caribbean toward Florida, locals are bracing themselves for life-threatening storm surges and heavy rain.
What is a category five?
Category five is the highest category on the Saffir-Simpson scale, used to measure hurricanes forming in the Atlantic and northern Pacific oceans by wind speed.
The scale was invented in 1971 by engineer Herbert Saffir and meteorologist Robert Simpson, who led the US National Hurricane Center (NHC).
A category five is anything with sustained winds of over 250 km/h (157 mph).
It does not consider the storm's size, surges or flooding potential. These factors can often prove more deadly, like in the cases of the 1900 Galveston Hurricane, 1928's Okeechobee Hurricane or 2005's Hurricane Katrina in New Orleans.
The NHC estimates the landfall damage of category fives will cause "catastrophic damage" that will leave most of the area "uninhabitable for weeks or months".
There is no such thing as a category six because according to one of the scale's creators, the damage begins to look the same after it has reached category five speeds.
But how does Irma compare to other hurricanes in the Atlantic's history?
2017: Hurricane Irma - 300km/h (186mph)
The storm has cut a path across Caribbean islands, killing some people and leaving many homeless.
Irma could be lowered to a category four by the time it arrives in Florida, but the scale of damage it wreaks in its path is yet to be seen.
1992: Hurricane Andrew - 267km/h (165mph)
The Governor of Florida, Rick Scott, has said Irma "could be worse" than Andrew.
"The storm is bigger, faster and stronger than Hurricane Andrew ," he said.
The storm from 25 years ago looms large in Florida memories. Andrew claimed 26 lives and left up to 250,000 people homeless. Damages it caused cost $25bn (£15.8bn) and it took years for some areas to get back to normal.
If Irma keeps up its wind speeds, it will be the first category five storm to hit the US since Andrew.
1935: Labour Day Hurricane - 300km/h (186mph)
This hurricane predated the naming system given to tropical storms, but is estimated to have made landfall as a category five storm across the Florida Keys and the state's mainland on 2 September 1935.
Its path of destruction was about 40 miles wide, producing a surge about 20ft above sea level.
Some 408 people were reportedly killed - over half had been evacuated from the Florida Keys on a train that then derailed.
1988: Hurricane Gilbert - 300km/h (186mph)
On 12 September 1988, Hurricane Gilbert struck Jamaica as a category three, devastating the island before heading on to Mexico's Yucatan Pensinsula as a category five after picking up intensity.
It weakened into a category two in the Mexican gulf, but had a total death toll of 316 people, with most dying in floods.
2005: Hurricane Wilma - 300km/h (186mph)
At the end of July this year, Hurricane Harvey became the worst hurricane that had made landfall in the United States since Wilma 12 years before.
It fell during the busiest ever storm season, with a staggering 28 recorded across 2005. Forecasters ran out of alphabet letters to name them.
Hurricane Katrina, which struck earlier that year, had a much higher death toll, but Wilma outstripped Katrina for sustained wind power - peaking at 280km/h (175mph) but weakening significantly before it made landfall.
Katrina killed at least 1,800 people - most died in extreme floods in Louisiana. Wilma's death toll was significantly lower: it killed 23 people directly including 12 people in Haiti and five in Florida.
1980: Hurricane Allen - 305km/h (190mph)
Irma is currently only being beaten by 1980's Hurricane Allen for strongest sustained wind speeds.
As it intensified across the Caribbean it killed six people on St Lucia and 238 in the Antilles islands.
Hurricane Allen then reached a staggering 305km/h (190 mph) at its peak before hitting Texas with 205km/h (125mph) winds.
Fortunately it made landfall in a sparsely populated area of the US state, with few casualties recorded.
2015: Hurricane Patricia - 345km/h (215 mph)
The all-time record for the highest ever wind speeds is held by Hurricane Patricia, which reached 345km/h (215 mph) in 2015 in the Pacific Ocean. But it did not hit the US at that speed - it weakened substantially before it made landfall.