Venezuelan vet's fight for the harpy eagle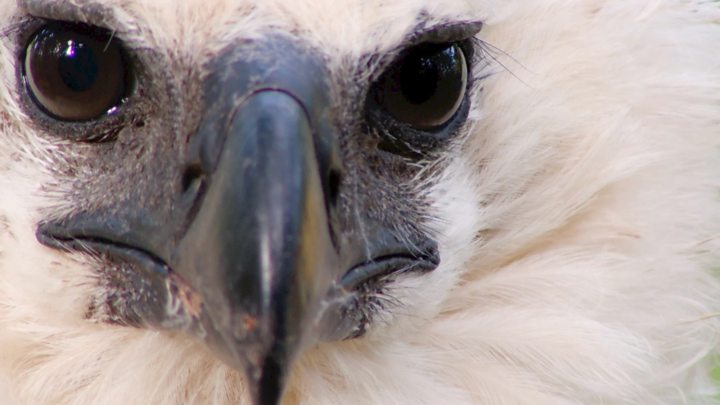 "The pain was intense, but during the fall, I was only thinking about the chick," says Venezuelan vet Alexander Blanco of the time he plummeted from a treetop in the Venezuelan rainforest with a harpy eagle chick in tow.
Mr Blanco runs the national harpy monitoring programme Fundación Esfera in Venezuela.
He was tagging the chick when his ropes loosened and he fell 35m (115ft) to the ground. Mr Blanco ended up in hospital with a broken wrist and leg but the chick was unhurt.
It was not the first time the vet had risked his life for harpy eagles.
An irate female bird left him with a seven-centimetre-long (2.7in) laceration and a perforated thorax when he tried to tag another chick high up in the canopy.
Ever since, he has been wearing a stab-proof vest to carry out the task.
Stuff of legends
One of the world's largest eagles, the harpy is surrounded by legends. It is known by indigenous people in South America as the "god of the wind".
Early European explorers named the huge birds after the harpies of Greek mythology, predatory "frightful flying creatures with hooked beaks and claws".
Mr Blanco first came across them over 20 years ago when he was training as a vet and working at a zoo.
---
Harpy eagle
Can lift prey weighing over half its body weight, can snatch large monkeys from treetops
Its talons can exert several hundred pounds of pressure, instantly killing their victim
Feeds on opossums, porcupines, young deer, snakes and iguanas
Its wingspan can reach two metres (6.5ft)
Its nest measures about 1.2m across
---
"I found an eagle there in very bad condition. I managed to get it moved to a better location and that's how I started getting interested in the species."
"Then a wild eagle turned up which had been caught by animal traffickers. I had to operate on her and nurse her back to health," he recalls.
"We released her into the wild and she's still alive today."
Then a colleague asked him to find a bird with chicks to tag in the wild, not an easy task as local people told him he would have more luck spotting a dinosaur in the jungle than a harpy eagle.
"I was completely green, but I managed to find a nest, capture the chick up in the tree and fit it with a satellite transmitter."
He says that while climbing back down he realised he had found his calling. "And I've been working with harpy eagles for 20 years now," he says of his passion.
Mr Blanco says he finances a large part of his work with the harpy eagles with income from his veterinary services.
He pays for the satellite transmitters to tag the birds which friends have to bring into Venezuela as they are unavailable there.
Earlier this year, Mr Blanco won the Whitley Fund for Nature award, which will help fund some of his work on community engagement and monitoring.
Often referred to as the "Green Oscars", the award champions local conservationists who are spearheading innovative work to save endangered wildlife.
Poachers turned gamekeepers
The biggest challenge, according to Mr Blanco, is changing local attitudes towards the birds that are both feared and hunted.
"Using local guides has been key. Many were hunters but I always ask them to come with me and see how we work," Mr Blanco explains.
"When I climb a tree to catch an eagle I bring it down and let them hold it, and from that moment they fall in love with the eagles as well."
He says many of the guides he has worked with have become conservationists, who in turn encourage local people to guard harpy nests and maintain the forest around them.
"This has had a huge effect on our conservation programme."
Harpy eagles do not migrate, instead they hunt in their established territory continuously. They need several square kilometres of undisturbed forest to thrive.
They used to be found from southern Mexico all the way to northern Argentina but years of logging, destruction of nesting sites and poaching have had a huge impact on numbers.
They have all but disappeared from Costa Rica and El Salvador.
In Venezuela, a lack of environmental policing in remote areas has led to a sharp increase in illegal deforestation.
With most harpy eagle nests located outside protected areas, the risk for the birds is on the up.
But Mr Blanco says engaging local communities through his monitoring and tagging project is the key.
He says his team are now monitoring around 100 nests in Venezuela, a record number for the region.
Mr Blanco says he hopes to continue to support other harpy eagle projects in Brazil, Ecuador, Panama and Peru, and export his methodology further afield.