Brazilian football fan killed as rival supporters clash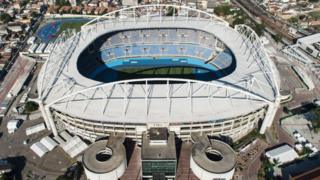 A football fan was killed and seven more injured as supporters of rival teams Botafogo and Flamengo clashed in Rio on Sunday.
The clashes happened outside the Nilton Santos stadium ahead of a match in the Rio state championship.
Local media said tension was running high ahead of the game, which Flamengo won 2-1.
Gunshots could be heard ringing out and some of those injured had bullet wounds.
A 28-year-old Botafogo supporter, Diego Silva dos Santos, died after being taken to hospital with a gunshot wound to the chest.
Eyewitnesses said he had been shot from a moving car outside the Nilton Santos stadium, which is also known as Engenhao.
Botafogo released a statement [in Portuguese] saying the club rejected any kind of violence
Flamengo also expressed its condolences in a post on Twitter [in Portuguese] saying: "We lament the death of the fan and what happened at Engenhao. Peace always. Football is happiness."
The stadium was the venue for the athletic events at the Olympic Games, which Rio hosted last year.
While it is not unusual for fans of the rival teams to clash, deaths are not common.