Peru offers reward for capture of ex-President Toledo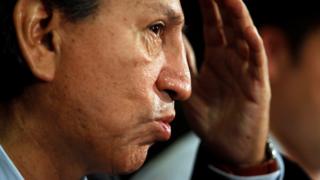 Peruvian authorities have offered a reward of $30,000 (£24,000) for information leading to the capture of former President Alejandro Toledo.
A judge earlier ordered his arrest over allegations he took $20m in bribes.
Mr Toledo is accused of receiving money from Brazilian building firm Odebrecht in return for awarding public works contracts. He denies any wrongdoing.
Peruvian officials say they believe he is in the US city of San Francisco and could try to travel to Israel.
Mr Toledo, who governed from 2001 to 2006, is a visiting professor at Stanford University, near San Francisco, and his wife, Eliane Karp, has Israeli citizenship.
US and Israeli authorities have been asked to help find him, the government said.
Announcing the reward, the interior ministry said it was also asking Interpol to help find the former leader.
"Anyone in the world who can help us find him can claim the reward," Interior Minister Carlos Basombrio said on Canal N TV station.
---
Read more on this story:
Judge Richard Concepcion ruled that Mr Toledo should be remanded in custody at the earliest opportunity, rejecting a request for bail from the former president's lawyers.
Odebrecht is at the centre of a multi-national corruption scandal. It admitted, as part of a plea deal with the US justice department, to paying nearly $800m (£640m) in bribes to governments across Latin America.
They admitted paying $29m in Peru to secure contracts between 2005 and 2014.
That time spans the presidencies of Mr Toledo and his two successors in office, Alan Garcia and Ollanta Humala. His successors have also denied any wrongdoing.
Peruvian media reported that Odebrecht's former executive director in Peru, Jorge Barata, accused Mr Toledo of receiving $20m in bribes in exchange for granting the firm a contract to build stretches of a highway linking Peru and Brazil.
Mr Barata is co-operating with prosecutors in his native Brazil and Peru as part of a plea bargain.
Mr Toledo has strongly rejected the allegations, saying: "Let Mr Barata say when, how, where and to which bank he sent me $20m. I won't stand for this!"
Investigators searched Mr Toledo's home for five hours on Saturday. The attorney general's office said documents found at the home would now be evaluated.
Mr Toledo was in France at the time of the search and said he was "outraged by this political lynching coming from my traditional enemies".
The current president of Peru, Pedro Pablo Kuczynski, has urged Mr Toledo to return to Peru to face questioning.
---
Pandora's box is opened - analysis by BBC's South American business correspondent Daniel Gallas
Alejandro Toledo made his political career denouncing the corruption of another Peruvian president, Alberto Fujimori, who is currently in jail.
Now he may be about to join Mr Fujimori in prison.
In 2013, Peruvian investigators began investigating Mr Toledo's deals after his mother-in-law bought expensive houses with the use of offshore companies. The deals were much above the family's means.
For four years the investigations barely moved, as the police could not establish the source of the family's alleged wealth.
Mr Toledo said at the time the money came from a special pension paid to his mother-in-law as a Holocaust survivor.
But in December 2016, Brazilian construction firm Odebrecht admitted to US officials it had paid $29 million in bribes to various different Peruvian officials from 2005 to 2014.
During that period, Odebrecht was awarded a lucrative deal to build a highway that links the Brazilian city of Rio Branco to Peru's Pacific coast.
Now Mr Toledo is facing accusations from Odebrecht's former director in Peru, who states where, when and how much money was allegedly paid in bribes.
Peruvians are still sceptical about whether Mr Toledo will really fly back to the country to face the charges.
Also many in Latin America are wondering: how many more scandals will be unearthed as Odebrecht's Pandora's box is opened?
---