Colombia ex-footballer Diego Osorio faces drugs charges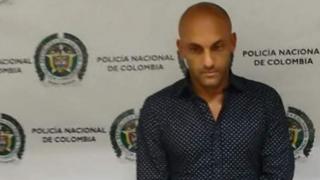 A former football player who played for Colombia's national team in the 1990s has been charged with drug trafficking.
Diego Leon Osorio, 46, is accused of trying to smuggle more than 1kg (two pounds) of cocaine to Spain concealed in his underwear, which he denies.
He was arrested at the international airport in the Colombian city of Medellin in October.
If found guilty, Mr Osorio could face up to 12 years in prison.
Mr Osorio played for Colombia's national team in the Copa America in 1991 and 1993 and also at the Barcelona Olympics in 1993.
He also played for Colombian teams Atletico Nacional, Santa Fe and Medellin.
Local media say that after his retirement from football at the age of 29, Mr Osorio managed a number of hotels around Medellin.
He still played occasionally in charity matches with his former teammate Carlos Valderrama.