Venezuela army still searching for crashed Amazon helicopter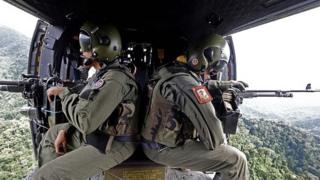 Officials in Venezuela say the search for a missing military helicopter is continuing in the country's Amazon region.
Reports on Friday had indicated that search teams found survivors six days after the aircraft crashed.
But the country's minister for communication later said the message had been put out before it was confirmed.
Thirteen people, including civilians, were on board the Mi-17V-5 helicopter.
One of them was a four-year-old child.
Venezuela's defence minister tweeted a picture of soldiers around a map on Saturday, adding that the search continued with "optimism and faith" despite adverse conditions.
The weather in southern Venezuela, where the helicopter crashed, is currently cloudy and stormy with heavy rain.