Brazil gunman kills ex-wife, son and 10 others in Campinas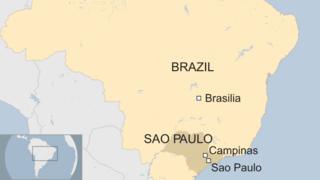 A man in Brazil has killed his ex-wife, his son and 10 other people celebrating the arrival of the new year.
The unidentified man was carrying several firearms when he stormed the family house in Campinas, some 100km (60 miles) from Sao Paulo, police said.
Another three people were wounded. The man killed himself afterwards.
The murder occurred just before midnight, police said. Neighbours had heard blasts but thought they were fireworks.
They were alerted after one of those injured escaped to a neighbour's house to plead for help.
"When we opened the gate to go into the street to see the fireworks, the celebrations, a wounded person came into our yard. He entered, asking for help,'' the neighbour, Christiano Machado, said.