Santos: Nobel prize 'a gift' to Colombia peace process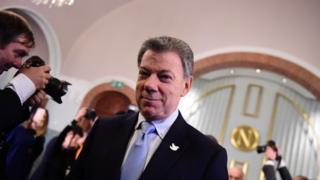 Colombian President Juan Manuel Santos has said his Nobel Peace Prize came "like a gift from heaven" in his bid to forge an agreement with Farc rebels.
An initial accord ending more than 50 years of conflict was struck in late September, but rejected by Colombians in a vote.
Days later Mr Santos was awarded the Nobel Peace Prize, which he said gave a "tremendous push" for a new deal.
He is in the Norwegian capital Oslo and will collect the prize on Saturday.
None of his co-signatories from the Farc are attending, with the group still designated as a terrorist organisation in many countries.
Mr Santos said, however, that they "will be here in heart and spirit".
On his award, he said: "It came like a gift from heaven, because it gave us a tremendous push.
"People in Colombia interpreted it as a mandate from the international community to persevere, to continue striving to achieve a new peace agreement."
The Colombian government and the Farc signed a revised deal in November.
The conflict has killed more than 260,000 people and left millions internally displaced.