Colombia's Farc rebels do the Mannequin Challenge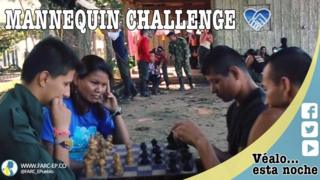 Farc rebels in Colombia have posted a video of themselves doing the Mannequin Challenge.
The rebels are currently in the process of demobilising after reaching a final peace deal with the government.
In the video, posted on YouTube, female and male rebels can be seen in a camp at an undisclosed location playing chess, using laptops, chopping wood and generally looking relaxed.
They tweeted that the idea was to give people a glimpse of their lives.
In the past, Farc videos have mainly featured their leaders reading lengthy revolutionary communiques.
Since the rebels entered into peace talks with the government, their videos became more light-hearted though and have included their fighters singing pro-peace rap songs.
The Farc (Revolutionary Armed Forces of Colombia) were founded in 1964 as a Marxist rebel group and at their height had about 20,000 fighters.
After four years of negotiations, they reached a peace agreement with the government earlier this year.
However, that deal was rejected by the Colombian people in a public vote because many felt it was too lenient on the rebels.
The two sides returned to the negotiating table and reached a revised agreement, which was signed on 24 November in a low-key ceremony.
That deal has since been approved by the Colombian Congress.
Preparing for demobilisation
Under the agreement, the remaining Farc rebels, thought to number about 7,500, will be expected to gather in "transition zones", areas guarded by the security forces where they will be registered and asked to hand over their weapons.
The government has said it expects all rebels to be in the transition zones by the end of the year.
The Farc say the Mannequin Challenge video was recorded in one of their camps where they have been gathering ahead of their move to the transition zones.
The group said it aimed to portray daily life "in the form of this novel and fun challenge".
The Mannequin Challenge, a popular social media trend, involves being people being filmed while striking a pose and then remaining as still as possible.
It started in a Florida high school and has been imitated by all kinds of people including celebrities, sports teams and even US presidential candidate Hillary Clinton.