Mexico F1 driver Sergio Perez dumps sponsor over tweet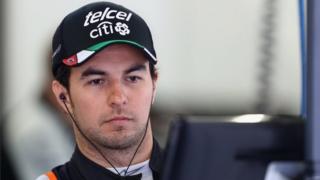 Mexican Formula 1 driver Sergio Perez has dumped one of his sponsors for sending a disrespectful tweet about his compatriots.
Perez was incensed after sunglasses manufacturer Hawkers tweeted in the wake of Donald Trump's victory in the US election that Mexicans should buy its shades to hide their tears when Mr Trump began to build a border wall.
The driver said he would not allow anyone to make fun of his country.
Hawkers subsequently apologised.
'Grave error'
One of the company's founders, David Moreno, published a video message on Twitter (in Spanish) saying that he and his team had committed "a grave error" and were sincerely sorry about the comment, which they have since erased from their Twitter feed.
He said the tweet had been "a joke, a joke in bad taste".
Perez had earlier tweeted: "What a bad comment, today I sever my links with @HawkersMX. I won't let anyone make fun of my country! #MexicoUnited
Mr Trump campaigned on a promise to build a wall between Mexico and the US to protect the latter from Mexican migrants trying to cross into the US.
He further angered them by branding Mexican migrants "drug dealers, criminals, rapists".
Sergio Perez, 26, came third in the Formula 1 races in Monaco and Baku this season.
Last week, he announced he would continue with the Force India team for another season in 2017.