Uruguay city's joy as Madonna statue found after storm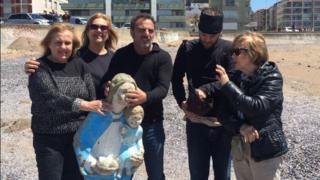 Residents of the Uruguayan seaside resort of Punta del Este have been celebrating the reappearance of a statue of the Virgin Mary which had been lost in a recent storm.
The statue of Our Lady of the Candelaria, the patron saint of Punta del Este, was ripped from its beachside shrine by strong waves during a cyclone which hit the resort on Thursday.
Surfers found the statue headless in the sea and dragged it to the beach.
Its head was found on nearby rocks.
The statue had been standing in a stone shrine on El Emir beach for about 35 years. But on Friday residents found it had disappeared in the storm.
A temporary statue was placed in the empty niche.
The original was retrieved by two young surfers two days after the storm, local councillor Susana Cabrera told Argentine news site Infobae.
It has been taken to Our Lady of the Candelaria church for restoration, she said.
According to the councillor, many residents have seen its retrieval from the sea "as a sign that after this storm...everything will come together again" and some have called it a "miracle".
Ms Cabrera said that the statue would be returned to its seaside shrine as soon as it had been repaired.