Rio 2016: Media bus hit by stone-throwing 'vandals'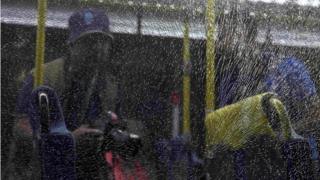 An investigation into an attack on a media bus at the Rio 2016 Olympics has concluded the vehicle was hit by stones thrown in an "act of vandalism", the Games security chief has said.
There had been fears the vehicle had been shot at but Luiz Fernando Correa said stones had hit "the metal part of the windows", making a loud noise.
Three of the 12 people on board suffered cuts from shattered glass in the incident on Tuesday evening.
It is not known who the attackers were.
The bus was travelling between the Deodoro hockey venue and the main press centre at Barra da Tijuca.
Rio 2016 spokesman Mario Andrada said the attack was "worrying and intolerable".
Mr Correa defended security measures in place and said it would be "impossible" to provide complete protection.
"There was a popping, cracking noise" when the bus was hit, an unnamed photographer from the UK's Press Association said. "There were pierced holes in the glass when it happened. Everyone was on the floor so I got on the floor as well."
"The two windows did not shatter immediately but one of them shattered as we drove along the motorway," the photographer added.
A police escort later accompanied the bus back to the press centre.
A statement from the Games organising committee said military patrols would be "increased" in response.
On Saturday a bullet pierced the roof of the media tent at the Olympic Equestrian Centre - which is located near a military compound. The competition was not disrupted and nobody was hurt.