Mexican mayor and police arrested for alleged killing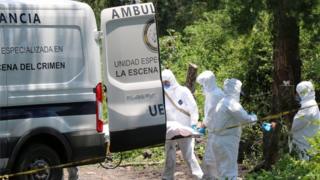 A local mayor has been arrested in the Mexican state of Michoacan for alleged involvement in the killing of 10 men.
Four police officers were also detained after the bodies of the men were found in a burnt-out truck over the weekend.
The governor of Michoacan, Silvano Aureolos, said it was initially thought the men were victims of an accident during an illegal pipeline tap.
State prosecutors said evidence showed the mayor had ordered the killing.
Speaking on Tuesday, Mr Aureolos said there were indications the mayor, Juan Carlos Arreygue of the town of Alvaro Obregon, had links to organised crime.
He said the director and sub-director of the municipal police had been arrested along with two other officers.
Mexico marches to remember students
Mexico official account of deaths of 43 rejected
The State Prosecutor, Jose Martin Godoy, said the men had been taken from a small shop on the outskirts of a local town by police.
The men "were bound and then forced to get into a pick-up truck and the next morning they were found dead and their bodies burnt".
Mr Godoy said the incident had happened in the presence and on the orders of the mayor who ordered them to be taken to his town, Alvaro Obregon, "where they killed them and then immediately took the bodies to a land lot where they set the pick-up on fire".
Cases of civilians being arrested by police and then killed have occurred in other regions of Mexico in the last few years.
The most well known has been that of the 43 teacher training students from a college in Guerrero state which neighbours Michoacan.
State prosecutors allege they were taken by police on the orders of the local mayor who had links with the drug trade.
The students, the prosecutors said, were handed over by the police to a gang for execution.
This has been denied by the families of the victims and by independent human rights organisations brought in to investigate.
Michoacan, like Guerrero, is plagued by drug violence caused by two drug gangs, La Familia Michoacana and before that, the Knights Templar.
On the Pacific coast, Michoacan is a key state for the production and trafficking of drugs into the United States.