Tropical Storm Earl heads to Yucatan peninsula after nine die in Caribbean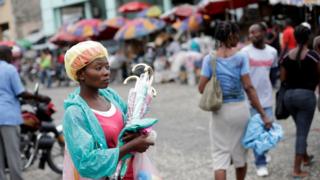 A deadly weather system now named Tropical Storm Earl is making its way towards the Yucatan peninsula.
The US National Hurricane Center in Miami says Earl is threatening to bring heavy rains, flooding and high winds to Honduras, Belize and Mexico.
A hurricane watch has been issued for part of the coast of Mexico.
At least nine people died on Monday due to extreme weather in Haiti and the Dominican Republic as the storm passed over the Caribbean.
Six of the victims were passengers on board a bus that caught fire in the Dominican town of Nagua when it was hit by tumbling power lines.
Three people drowned when their tour boat capsized.