Former Chile officer found liable for Victor Jara death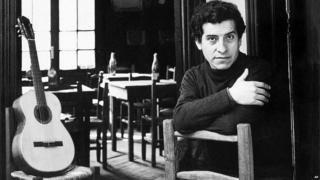 A Florida jury has found a former Chilean army officer liable for the murder of the popular folk singer and activist, Victor Jara in 1973.
It found that Pedro Pablo Barrientos killed the folk singer in the first days of Augusto Pinochet's coup.
The jury at the civil trial in Orlando awarded Jara's family $28m (£21m) in damages.
More than 3,000 people were killed or went missing between 1973 and 1990, when Pinochet's dictatorship ended.
The lawsuit against Mr Barrientos, who now lives in Florida, was brought by Jara's widow Joan and his daughter Amanda.
The singer was a well-known figure in Chile during the 1960s and 70s.
He wrote protest songs about Chile's ruling elite and was a supporter of leftist President Salvador Allende, who died during the military uprising.
Jara's body was exhumed in 2009 and later reburied, with thousands of Chileans paying their respects.
Several other former army officers have faced trial over his killing in Chile.