Rio 2016: Water thrown on Olympic flame in Brazil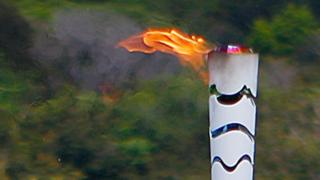 A man has been arrested in Brazil after trying to put out the Olympic flame by throwing a bucket of water over it.
The 27-year-old later told police the act had been a "dare", police said.
Video footage showed a spray of water being thrown over the group carrying the torch in Maracaju in central Brazil.
The torch relay will cover 20,000km (12,400 mile) and 300 Brazilian cities before the flame arrives in Rio de Janeiro for the Games opening ceremony.
The incident comes a week after a rare jaguar was shot and killed after being used in an Olympic torch ceremony.