New charges loom for Brazil's suspended speaker Eduardo Cunha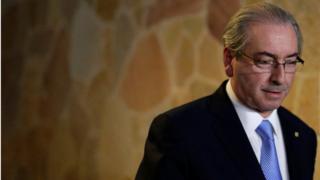 Brazil's supreme court has accepted more charges of corruption against the suspended leader of the lower house of Congress, Eduardo Cunha.
He is being charged with money laundering and illegal currency-dealing related to a huge kickback scheme being investigated at the state oil company, Petrobras.
He has denied any wrongdoing.
Mr Cunha is widely regarded as the architect of the impeachment process of President Dilma Rousseff.
The supreme court judge overseeing the case, Teori Zavascki, said in the ruling, "There is concrete evidence that Congressman Eduardo Cunha received [illicit] funds."
Mr Cunha has said he has nothing to hide and has denied the charges.
Correspondents say the second set of accusations could increase the chance of Mr Cunha taking a plea deal and implicating others in his party including the interim president, Michel Temer.
In March he was accused of asking for and receiving at least $5m (£3.2m) in bribes - charges he also denied.
The charges were based on evidence given by Swiss authorities saying Mr Cunha had secret accounts which Brazilian prosecutors allege are linked to a corruption scheme at Petrobras.
Mr Cunha, a committed evangelical Christian who often quotes the Bible in his social media messages, has said that the accounts in Switzerland were trust funds that he did not control.
He was suspended last month, accused of trying to obstruct the corruption investigation against him and intimidating lawmakers.
Ms Rousseff and her supporters say it was her government's decision not to give in to Mr Cunha's demands, specifically over the ethics committee investigation, that triggered his subsequent move to begin impeachment proceedings.
Petrobras is at the centre of a massive kickbacks scandal which has led to the arrest of dozens of Brazilian lawmakers and top businessmen.