Peru poll goes down to the wire as last votes are counted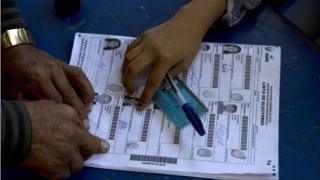 Election officials in Peru are counting the last remaining votes from Sunday's presidential poll.
With 99.5% of the votes counted, former World Bank economist Pedro Pablo Kuczynski has a 0.23 percentage point lead over his rival, Keiko Fujimori.
Both candidates have called for calm and say they are awaiting the final results.
Election officials say counting was delayed by votes coming in slowly from overseas and the remote Amazon region.
River journey
The last ballot boxes arrived from Hamburg, in northern Germany, on Wednesday evening, election officials said.
They said almost 900,000 Peruvians living abroad had been eligible to vote.
Votes cast in the Peruvian Amazon were transported for large stretches by boat.
Ballot boxes from the Apurimac and Ene valleys, where remnants of the Maoist rebel movement Shining Path are still active, had to be flown out for security reasons.
The latest tally of votes is available at the Peruvian electoral commission (ONPE) website.
Outgoing President Ollanta Humala urged the authorities "to deliver the results in the quickest and most-responsible manner".
The closeness of the result came as a surprise after polls in the run-up to the election had suggested Keiko Fujimori had a comfortable lead over Mr Kuczynski.
'Risk to democracy'
Analysts said corruption scandals in Ms Fujimori's Popular Force Party may have dented her support since April, when she comfortably won the first round of voting.
She is the daughter of Peru's former President, Alberto Fujimori, who is in jail for crimes against humanity.
Shadow of jailed ex-president cast over Peru polls
---
Keiko Fujimori
Born in Lima in 1975
Her father, Alberto Fujimori, was president of Peru from 1990 to 2000 and is now in jail
Served as First Lady from 1994 to 2000 after her mother and her father divorced
Studied business administration in the US
Was a member of Congress from 2006 to 2011 for Lima
Campaigned on a promise of being tough on crime
---
In the run-up to the second round, Mr Kuczynski portrayed Ms Fujimori as a "risk to democracy", reminding voters of her father's crimes and authoritarian style of government.
But many Peruvians, who credit her father with defeating the Shining Path rebel movement, were drawn to her promise of being tough on crime.
Mr Kuczynski, who is an ex-Wall Street financier, said he would use his international financial experience to promote economic growth.
He has the support of prominent figures such as Nobel-Prize-winning novelist Mario Vargas Llosa and left-wing candidate Veronika Mendoza, who came third in the first round of voting.
But he has faced scrutiny over his close relationship to Peru's business elite.
---
Pedro Pablo Kuczynski
Born in Lima in 1938
His Jewish father, a doctor, fled Berlin after Adolf Hitler came to power; his Swiss mother taught literature
Won a scholarship and studied politics, philosophy and economy at Oxford University
Worked for the World Bank and Peru's Central Bank
Says the main thing he believes in is equality
Campaigned on a promise to create a "transparent government" to deliver clean drinking water and revive Peru's economy
---