Brazil corruption: Former chief-of-staff Jose Dirceu sentenced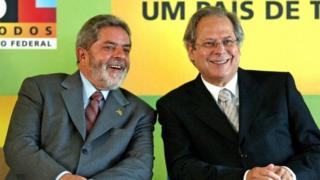 A Brazilian judge has sentenced the former presidential chief-of-staff, Jose Dirceu, to more than 23 years and three months in jail for corruption, money laundering and conspiracy.
Mr Dirceu was convicted for involvement in a kickback scheme at the state oil company, Petrobras.
He served in the government of former president Luiz Inacio Lula da Silva, and was once tipped to succeed him.
Mr Dirceu maintains his innocence and says the accusations are political.
Judge Sergio Moro sentenced another 11 people on Tuesday for involvement in the scheme, including the former treasurer of the Workers' Party, Joao Vaccari Neto.
Judge Moro has been leading the investigations into the Petrobras scandal, which has cost the company more than $2bn (£1.45bn), prosecutors said.
Part of the money was used to finance the electoral campaign of top Brazilian politicians, they allege.
Mr Dirceu was Lula's chief of staff from 2003 to 2005.
In 2012 he was convicted of running a scheme that used public funds to buy support from opposition parties in congress.
It became known as Mensalao, or Big Monthly Allowances. Mr Lula was not implicated in the scandal.
Mr Dirceu was one of the closest advisers of the former president, but was sacked when the first allegations of corruption emerged.
He was replaced by Dilma Rousseff, who went on to become president.
She was suspended by the Senate earlier this month to face an impeachment trial.
Ms Rousseff has not been accused of corruption.
She is facing accusations of illegally manipulating finances to hide a growing public deficit ahead of her re-election.
But the corruption probe at Petrobras has played a major part in the impeachment proceedings as it exposed the involvement of politicians from the governing coalition and eroded support for President Rousseff, the BBC's Julia Carneiro in Rio de Janeiro says.