Chilean TV presenter sacked after pisco row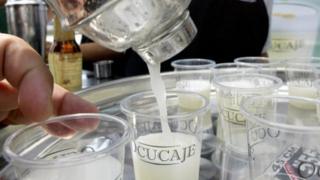 A Chilean TV presenter has been sacked after being accused of a lack of patriotism when discussing alcohol.
A Chilean distillery association said he had been unpatriotic by calling a Peruvian brandy pisco, during an interview with a distiller in Peru.
Chile and Peru have argued over the name pisco for centuries.
Peru insists the word describes a geographical region in Peru and Chile says it is a type of grape brandy it produces.
The Chilean Association of Pisco said that the TVN presenter, Christian Pino, should have known better and referred to the Peruvian drink as a "brandy" during the interview.
Pisco is the vital ingredient in the popular cocktail, Pisco Sour.
The Peruvians make it by blending pisco, egg white, ice, lime and Angostura bitters.
The Chilean drink is similar but leaves out the egg white and bitters.
The grapes used to make the spirit allegedly come from the grapes first brought to the region by Spanish colonisers.
Currently these grapes are grown in regions of both Chile and Peru.
In Peru the grape is grown in the regions of Lima, Arequipa and Ica before being fermented and distilled.
The Chilean brandy however is a distillate of wine from the northern regions of Chile aged in oak barrels for long period to bring a woodiness to the pisco.
Correction 10 May 2016: An earlier version of this story wrongly attributed to TVN comments about Mr Pino's sacking. The channel told the BBC he had not been dismissed because of his description of the drink but because he promoted specific brands of alcohol on air.