Venezuela finds bodies of gold miners 'killed by gang'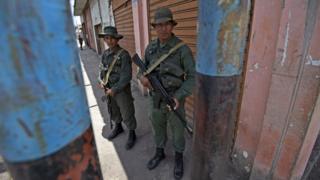 Venezuela's Attorney General says search teams have retrieved the remains of 14 missing gold miners, after reports that 28 had been killed.
Forensic experts and search teams are continuing to look for more bodies at the site, Luisa Ortega Diaz added.
Relatives said the men were killed by a gang on 4 March after finding significant amounts of gold in an illegally-operated mine.
The bodies were dismembered and buried locally, witnesses claimed.
"We inform the country that we have located the remains of the people who went missing in Tumeremo," tweeted Ms Ortega.
An arrest warrant has been issued for the leader of the gang accused of the killings - Jamilton Andres Ulloa Suarez, known as The Mole.
The bodies were located "in Nuevo Callao, deep into the [Amazon] jungle" added Ms Ortega.
The authorities believe 21 people, not 28, were killed. Relatives have rejected such claims and accuse the government of trying to cover up the massacre.
Bolivar state governor Francisco Rangel, from the governing PSUV party, had initially dismissed reports that the miners had gone missing.
He accused opposition politicians of stirring up trouble.
But within a couple of days Venezuelan air force troops were deployed in the remote jungle area, near the border with Guyana, to find out what had happened.
"We won't rest until we find those responsible for these acts, which in the eyes of all Venezuelans are abominable," said Venezuela's Defence Minister Vladimir Padrino Lopez last week.
He said at the time that they had probably been killed by gangs fighting over control of illegal mining in south-eastern Venezuela.
'Fight over gold'
The missing miners worked at the Atenas gold mine.
Reports of their disappearance first emerged on 6 March when worried relatives reported that their loved ones had not returned from work.
The families blocked a road in Tumeremo linking the region to the Brazilian border to demand an investigation.
Local media quoted eyewitnesses who said the discovery of a significant gold deposit had pitched the miners against members of a gang who wanted to lay their hands on the lucrative find.
The gang members allegedly opened fire on the miners and later forced the survivors to load the bodies on to a lorry.