Colombia bullfighting: At least 25 injured in Turbaco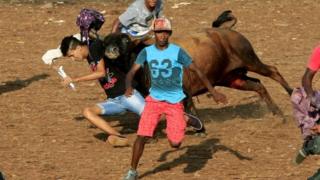 At least 25 people have been injured in an amateur bullfighting event in the northern Colombian city of Turbaco.
Four of the people gored by the bull are in a serious condition.
The traditional festival, known locally as "corraleja," is held as part of New Year celebrations.
Dozens of people try to tame a wild bull in a ring especially set up for the occasion. Only some of those taking part in the five-day event are experienced bullfighters.
Most are amateurs trying their luck.
"People really enjoy it", Turbaco resident Wilman Alcala told EFE news agency.
"This is a tradition of the Turbaco people that must be encouraged, because it is a party, it is part of our culture and it doesn't involve cruelty to animals," he added.
Bands play traditional music throughout the festival, which is also popular with tourists.
Turbaco lies just south of the seaside colonial town of Cartagena, a major tourist destination.