Argentina axes disputed grain and beef export controls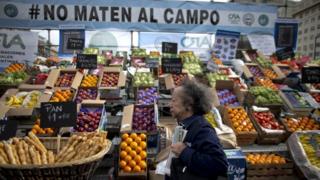 Argentina's new President Mauricio Macri has announced he is signing a decree slashing the country's steep taxes on agricultural exports.
He said he would lift export taxes on Argentine wheat, corn, sorghum and beef and cut the tax on soya by 5%.
The country is one of the world's largest livestock and grain producers.
Correspondents say Argentina's output is now expected to increase, which may push world food prices to drop further.
Mr Macri took office last Thursday. He had made it a central campaign pledge to slash taxes on agricultural exports.
The taxes had triggered years of tension and rebellion by producers against former President Cristina Fernandez de Kirchner's administration.
Farmers had accused the government of forcing the agricultural industry to bear an unfair share of the national tax burden, hurting the country's international competitiveness.
They have been stockpiling their crops hoping for better sale conditions.
"We can double Argentina's food production," Mr Macri told farmers, encouraging them to grow more to revitalize the agricultural sector.
President Fernandez de Kirchner had fought the farmers since protests over her tax policies paralysed the agriculture sector and rocked her government in 2008.