Pope urges 'revolution of tenderness' for Cubans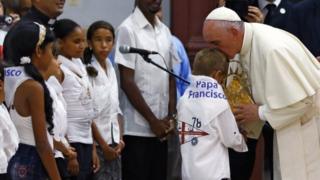 Pope Francis has called on Cubans to live a "revolution of tenderness", in the final Mass of his four-day visit to the island.
He was celebrating Mass at Cuba's holiest shrine, the sanctuary of the Virgin of Charity of El Cobre.
Later on Tuesday he left for the United States, where he will address both houses of Congress.
The BBC's Will Grant in Cuba says the Pope has avoided any overt political statements during his visit.
Commentators say he is expected to be more outspoken while in the US.
In Washington DC he will hold the first-ever canonisation mass on US soil and then give the first address to Congress by a pope.
He will then head to New York City for the 70th anniversary of the United Nations General Assembly.
The final leg of Pope Francis' US tour is Philadelphia where the pontiff will preside over the Vatican's World Meeting of Families.
It is being billed as one of the largest events in the city in modern times and could attract up to a million and half people.
Building bridges
During his time in Cuba, Pope Francis asked Cubans to follow the example set by the Virgin of Charity of El Cobre "to build bridges, to break down walls, to sow seeds of reconciliation".
---
Analysis: Will Grant, BBC Cuba correspondent
Whether Pope Francis's time in Cuba will be remembered fondly depends very much on your political view.
In one sense he achieved a great deal - the sight of President Raul Castro attending Mass in three different cities on the island shows how far Catholicism has come in Cuba since his brother, Fidel, was in power.
The pontiff was greeted by huge crowds everywhere he went, energising a community that was for decades treated like second-class citizens on the island.
But for those who still are - specifically the country's dissidents - this papal visit has not been a success.
---
The Virgin symbolises Cuba's mixed Spanish and African roots.
Alluding to Cuba's 1959 Communist revolution which brought Fidel Castro to power Fidel Castro, whom the Pope met on Sunday, the pontiff said: "Our revolution comes about through tenderness, through the joy which always becomes closeness and compassion, which isn't pain, and leads us to get involved in, and to serve, the life of others.'
During the trip, there have been complaints from some Cuban dissidents that Pope Francis did not receive them to hear their concerns about human rights on the island.
The Vatican said such a meeting was never on the agenda.