Argentine F1 legend Juan Manuel Fangio exhumed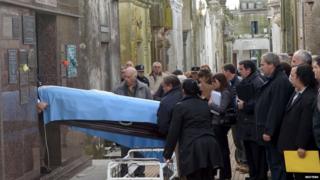 The body of 1950s motor-racing legend, Juan Manuel Fangio, has been exhumed on the orders of a judge in Argentina.
He ordered samples from Fangio's body be taken to try to resolve paternity cases brought by two men in their seventies claiming to be his sons.
Fangio won the F1 world championship five times in the 1950s.
He never married and did not declare any children, but his biographers say that he had a two-decade relationship with a woman.
Her son, Oscar Espinosa, had a brief spell in Formula 3 and was known by colleagues as "Cancho" Fangio.
Another man, Ruben Vazquez, brought a separate paternity claim.
Mr Vazquez said he had no financial interests: "I just want to be recognised for the Fangio surname."
Juan Manuel Fangio, who died in 1995 aged 84, left his estate to a foundation and a museum which bears his name.
His F1 record stood until Germany's Michael Schumacher broke it in 2003.