Chile ex-spymaster, Manuel Contreras, dies at 86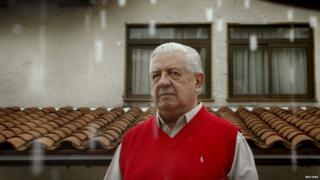 Manuel Contreras, who headed Chile's intelligence service, Dina, during the rule of Augusto Pinochet in the 1970s and 80s, has died aged 86.
Dozens of people gathered at the military hospital in Santiago where he was being treated to celebrate.
He had been serving a sentence of more than 500 years for human rights abuses.
Victims' families say Dina was behind more than half the cases of murder, disappearance and torture under the Pinochet government.
Contreras was one of the main architects of Plan Condor, a co-ordinated campaign of political repression and assassination by military governments in the southern cone of South America.
It is said to have killed tens of thousands of people across the region.
The former general had been suffering from cancer and was admitted to the hospital after his health sharply declined.
One of those who gathered outside the hospital said: "I'm really happy, but it's a conflicting emotion because this murderer died of illness but he should have suffered much more, just like many comrades suffered."
A presidential decree in 2009 announced that on his death, Contreras would not receive any military honours.
Questions have been asked by left-wing parties as to why he was not deprived of his rank of general when first sentenced.
Pinochet seized power in 1973 in a military coup that toppled the democratically elected government of Salvador Allende.
---
'He never said sorry'
Cristina Navarette was imprisoned and tortured by the intelligence service led by Gen Contreras. She gave the BBC World Service's Newshour programme her thoughts on his death.
"The most important feeling was I did not feel all that hatred or anger I felt I should be feeling. Perhaps it's because I survived the horrendous experience and I was able to build up my life, have children.
"But I put myself in the position of so many mothers, sisters and families who until today [still] don't know where their relatives are.
"He never acknowledged what he had done, he never said 'I'm sorry'.
"He died - I assume - very well looked after. I'm sure he wasn't suffering tremendous pain... surrounded by people he loved or loved him, and in conditions so different to the deaths he inflicted."
---