Colombia Farc rebel attack leave 500,000 without power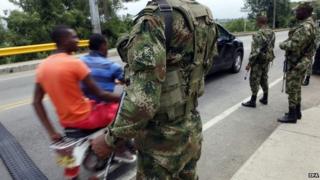 Colombia's Farc rebels have shot dead three police officers and cut off power to almost half a million people, the military has said.
The twin attacks come despite continuing peace talks between the government and the left-wing group.
The negotiations aim to end a more than 50-year long conflict that has left an estimated 220,000 people dead.
Last month the Farc ended a unilateral ceasefire it called, ambushing and killing 11 soldiers.
President Juan Manuel Santos responded by ordering the resumption of bombing raids on rebel positions.
He has called the latest attacks irrational. In the first, Farc members opened fire on police patrolling a stretch of highway, then later brought down an electricity pylon, plunging the southern region of Caqueta into darkness.
Farc fighters have targeted other Colombian infrastructure recently, including roads and oil pipelines.
Some analysts speculate the group may be trying to anger ordinary Colombians with the attacks, in order to force Mr Santos into calling a bilateral truce.